Google Earth Has Virtual Tours of 31 National Parks in the U.S.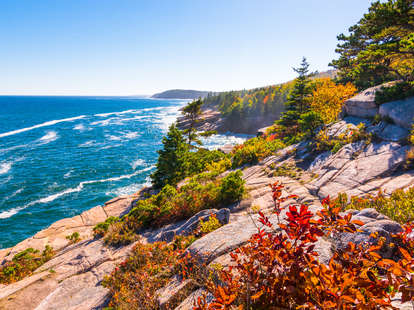 Acadia National Park

| Shutterstock
Acadia National Park

| Shutterstock
Ah, nature! Where towering redwoods make humble ants of great men! Where the vast blue meets in a foam crescendo against cliffs rich in mineral history! Where people are free to wear cargo shorts! The national park system in the United States is one of America's greatest treasures, undoubtedly worth traveling the country to explore. But, thanks to Google Earth, it's also one we can appreciate from the comfort of our own homes.
In the time we're living in, these digital perks are more important than ever. Last year Google Earth rolled out virtual tours of some of the most breathtaking parks in the country. The map and satellite imagery masters at Google Earth have put together a series of guided virtual tours of 31 national parks around the country, providing a stunning glimpse of the trails and vistas you can take advantage of if you visit them in real life. It may not be the same as lacing up your hiking boots and inhaling the crisp clean air of the wilderness, but they're pretty neat nonetheless.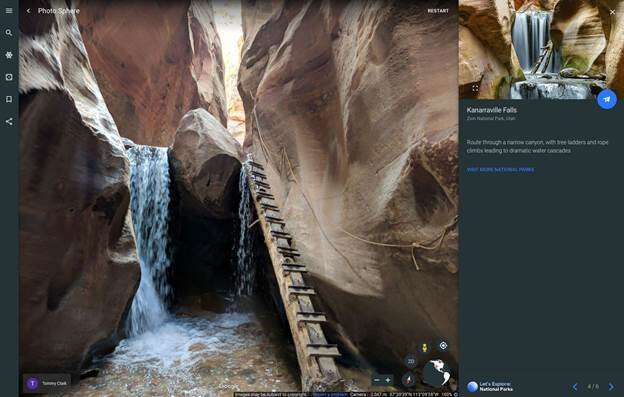 To take a digital hike, so to speak, just head on over to Google Earth and you'll see a list of the parks with tours available. Simply click on any you want to see, and you'll be whisked away to see a series of interactive photos and views of its most breathtaking trails and views.
Here's a full list of the parks that will be featured.
Acadia National Park
Arches National Park
Badlands National Park
Big Bend National Park
Black Canyon of the Gunnison National Park
Bruce Canyon National Park
Canyonlands National Park
Channel Islands National Park
Cuyahoga Valley National Park
Death Valley National Park
Denali National Park
Dry Tortugas National Park
Everglades National Park
Glacier National Park
Grand Canyon National Park
Grand Teton National Park
Great Smoky Mountain National Park
Guadalupe Mountains National Park
Joshua Tree National Park
Mesa Verde National Park
Mount Rainier National Park
Olympic National Park
Redwood National and State Parks
Rocky Mountain National Park
Sequoia National Park
Shenandoah National Park
Virgin Islands National Park
Wind Cave National Park
Yellowstone National Park
Yosemite National Park
Zion National Park

Sign up here for our daily Thrillist email and subscribe here for our YouTube channel to get your fix of the best in food/drink/fun.