Google Flights Just Got a Major Upgrade That'll Help You Save Money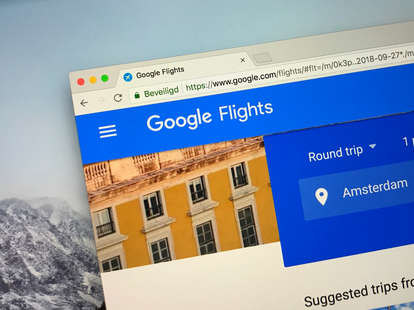 The thriftiest travelers will tell you that the best way to save money on flights is to download an app, call an anonymous phone number, stand behind an engraved tree in the dark, and receive an envelope containing cheap flights from a silent, hooded man wearing a wing brooch. But searching for deals and money-saving tips doesn't have to be exclusive and terrifying, because Google Flights' most recent revamp requires minimal effort while still saving you money.
Yes, the internet's daddy, Mr. Google, is giving us a new inside scoop on the cheapest travel. Google Flights will now alert you if airfare is cheaper at a nearby airport, so anyone nestled between two airports is about to have their decision made for them. That's what Daddies are for, right?
Google Alerts will also tell you if switching flight dates by a day or two will save more cash, which is already a fairly common service elsewhere, but is definitely a nice addition to an already incredibly useful service.
Before the upgrade, Google Flights users could search for airports and dates to see the prices for different airlines. They also warned you when your flights had extra fees, like the daunting checked luggage fee. But now they are truly the eyes of the airfare internet, and we will trust them with our lives, until one flight is delayed on that airline we've never tried before, at which point we will resent Google until our dying day.
h/t Travel & Leisure
Sign up here for our daily Thrillist email and subscribe here for our YouTube channel to get your fix of the best in food/drink/fun.