What to Know About Google Flights' New Money-Saving Features
Google will now pay you back if the price of your flight drops before takeoff.
Google Flights is offering a new tool that will take some of the major anxiety out of your next big travel decision. The platform is rolling out a new feature that will offer customers a lowest price guarantee when booking certain flights.
"No one likes to feel buyer's remorse, and that's especially true for a big purchase like plane tickets where the prices change from day to day," an announcement from Google states. "We've all thought to ourselves: Should I book now in case the price goes up tomorrow? Or should I wait in case there's a better deal next week?"
Google Flights already offers you the opportunity to see if the price you're seeing for your trip is low, high, or average for the time you plan on traveling. You can even set flexible time ranges so that you can see when the cheapest time to book is. Now, Google is also testing a new program that will guarantee you book the lowest price for your flight.
Flights available through the new feature will be indicated with price guarantee badges, which you can see an example of above. If you see the badge, Google is confident that the price will not get any lower before takeoff. If the price does lower between when you purchase your ticket and when you depart, Google will send you the difference through Google Pay.
As Google is testing the program, Google will only offer this guarantee on flights that are available to be booked with the "Book on Google" itineraries that are departing from the United States. This means that you'd need to book directly through Google instead of through an airline. Make sure that there is a price guarantee badge on the flight if you plan on using the feature.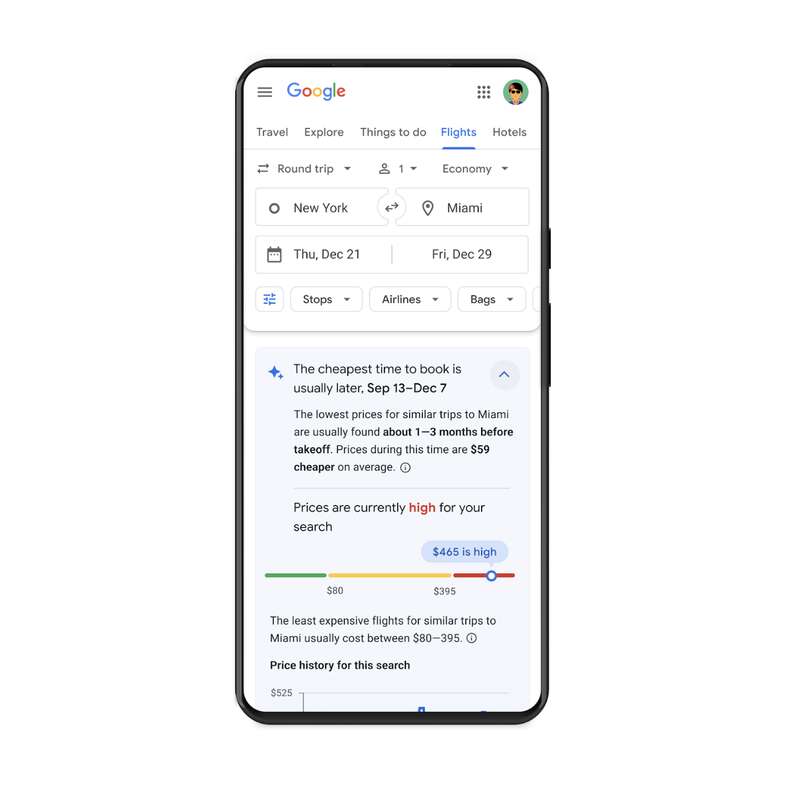 More Google Flights travel hacks
The new "cheapest price guarantee" feature is not the only available on the platform to help save money while you're booking. You can turn on price tracking, to keep an eye on prices as you are planning to make your booking.
"You can set up tracking for specific dates, like your best friend's destination wedding in February. Or, if you're more flexible, you can turn on 'Any dates' price tracking to receive emails about deals anytime in the next three to six months. To enable this feature, make sure you're logged into your Google account," Google Flights advises.
Another tool to help you find the best priced plane tickets through the platform? Google Flights has updated the insights you can get on certain flights that will let you not only know when flights are typically low or high but also when flights are typically lowest.
"On Google Flights, you can already see whether current prices for your search are low, typical or high compared to past averages for the same route," Google Flights shared with Thrillist. "For searches with reliable trend data, you'll now see when prices have typically been lowest to book your chosen dates and destination."