I fondly remember October of 2008: "Live Your Life" by T.I. featuring Rhianna was tearing up the charts, an upstart Senator from Illinois was closing in the United States Presidency, and -- of course -- every Halloween party in sight was filled with a sea of Heath Ledger-stylized Jokers, all trying desperately hard to be the coolest kids in the room. 
Thankfully we've come a long way since '08, T.I. is nowhere to be seen, that upstart Senator is now an exhausted and weary two-termer, and the recently released Frightgeist map from Google can make sure we don't end up rubbing elbows with exact copies of ourselves while walking around drinking dry-ice cocktails to the sweet sounds of the Monster Mash.  
Recommended Video
These Are Hawaii's Most Ube Pancakes
Frightgeist uses search data (via Google Analytics) to pinpoint exact costume searches, unique to each area. So obviously, it's not an exact science, because someone could Google "Captain Jack Sparrow" costume 1,000 times and still end up going as a baked potato -- but still, it should be a decent gauge as to how the Halloween zeitgeist (ohhhh now I get it) is shaping up.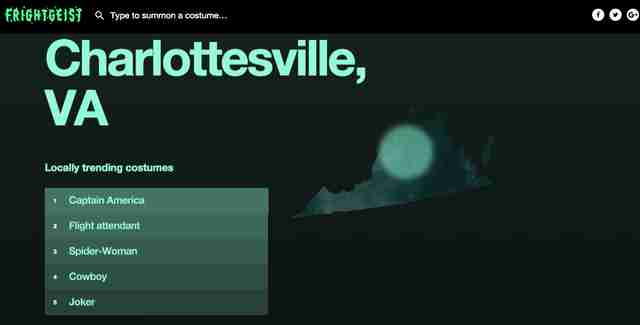 The map goes into even further detail when you select a specific area or city, giving you a rundown of the top five costumes being searched, with fluid updates. 
A little further scrolling will give you an idea of where else the most popular costume in your selected area is also gangbusters (to quote my Grandma). 
In addition, the data locates an "unusually popular" costume for every area, for those who think they are being clever but definitely aren't. 
Finally, there's a search bar to see where your specific costume of choice is heating up search queries. For some reason, my costume of choice -- late 90's Yankees second baseman Chuck Knoblauch -- is no where to be found. Weird. 

Wil Fulton is a Staff Writer for Thrillist. Mookie Blaylock was his second choice. Follow him @wilfulton
Sign up here for our daily Thrillist email, and get your fix of the best in food/drink/fun.