It's common knowledge at this point that Google and other services are collecting a lot of data on you as your move your way through the winding passages of the internet. There have long been ways to see what kind information Google was collecting, though it was always scattered and a little hard to decipher. Google has now made that a little bit easier with the launch of My Activity. 
The My Activity page provides a portal through which to dig into your history on Google products. As you enter My Activity a pop-up proclaims that the page is a way to "rediscover the things you've searched for, visited, and watched on Google services." That's a far less creepy way of saying, We're watching you.
Recommended Video
This Burger Comes on a Fried Cheese Bun
In reality, it's a window to see what kind of information they're providing advertisers as they serve you ads on all the various Google platforms you're using. Depending on your personal settings that can include browsing history (including what pages you visited after a search), YouTube history, voice data collected, and other information. On the My Activity page they provide this to users in an easy-to-read timeline (above) that can be filtered by platform and search terms.
From the timeline you can go into a detailed view of each item. From that view you can enter a section called "Activity Controls" that allows you to opt in or out of certain kinds of data collection, at least for the purposes of passing along your information to advertisers.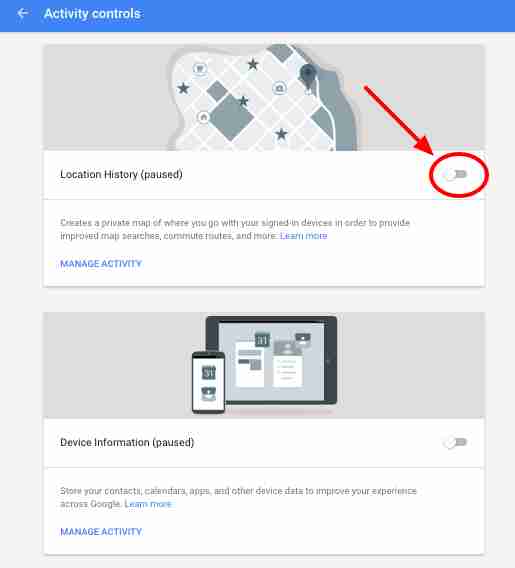 In the "Activity Controls" section, those options include "Web and App Activity," "Location Services," "Device Information," "Voice and Audio Activity," and "YouTube Search History," among others. They can be turned off using the toggle to the right of each section header.
While My Activity doesn't include a way to stop data collection entirely, it does provide users the ability to delete specific searches or videos to stop ads from popping up on those topics, as well as an easy path to turning off specific forms data collection. So, if you panicked one night and were searching for hair regrowth solutions, you can delete those searches and stop the onslaught of Rogaine ads popping up every time you want to watch Carpool Karaoke re-runs.