Google Maps Now Shows When Bars, Restaurants, and Stores Are Crowded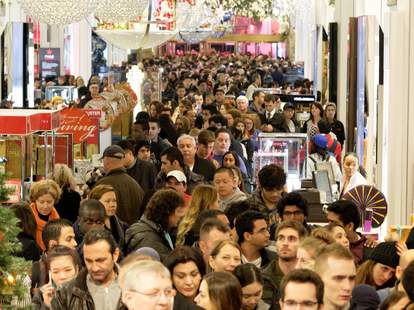 Make no mistakes, if you've got a pulse, holiday shopping isn't much cause for celebration. As the holidays near, you'll most likely watch money slowly drain from your bank account, and rub shoulders with similarly annoyed patrons as you brave crowded aisles and storefronts.
But luckily it's 2016, and technology is here to help. Google announced Monday an addition to its already super-practical Popular Times feature, which lets users track how crowded a particular business is at different times of the week. Now though, you can see how busy a place is in real-time, which might help you avoid a Black Friday nightmare or tale of Christmas shopping gone horribly wrong. According to The Verge, the company relies on "aggregated, anonymized location history data," for the feature, which it gathers from people who have their phone's location history function turned on.
The update to Popular Times comes with a slew of new features: There's the ability to see the average time customers typically spend at a given store, just in case you're in a bind and have to move quickly. As Google notes, certain "stores, businesses and restaurants can sometimes have multiple hours for different departments and special services." The update takes this into account, packaging those special service hours into a familiar display:
Popular Times is available in Google Search and Maps, and its usefulness should extend well beyond the realm of holiday shopping. The feature works for bars and restaurants, and can therefore help you avoid chance encounters with roving brigades of people dressed in Santa costumes, because that is an actual thing that happens. 
Sign up here for our daily Thrillist email, and get your fix of the best in food/drink/fun.
Sam Blum is a News Staff Writer for Thrillist. He's also a martial arts and music nerd who appreciates a fine sandwich and cute dogs. Find his clips in The Guardian, Rolling Stone, The A.V. Club and Vice. He's on Twitter @Blumnessmonster.