Google Is Secretly Recording Your Voice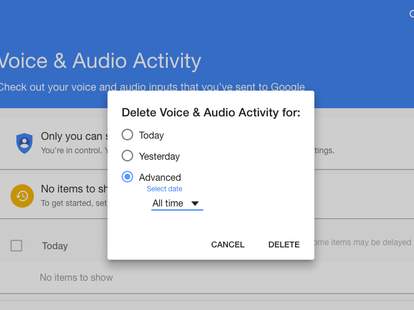 If you hate the way your voice sounds over recordings, you're not going to like hearing Google has been recording your terrible voice this whole time. Also, you officially have no privacy.
As revealed by The Independent, if you use voice command Google products, like "OK, Google," well, Google has a record of everything you've ever said while using such products. It's all in your Google History and has been in there since June 2015 when Google started keeping track of this activity on its Voice and Audio page.
On that page, you should be able to see your entire voice history, how each item was recorded, and tearfully listen to your voice. You may also see transcriptions if Google was able to translate the voice recording into text. Fortunately, from this page, you can also delete everything.
Here's how you do the deleting: Go to the right hand corner and click on the indicated dots.

Screenshot Via Google
Then click on "delete options" where you can delete items from today, yesterday, or whenever. To delete your entire history or your history from a specific date, you'll want to click on "Advanced," and then select a date. Selecting "All time," will remove every recording. You can also delete particularly embarrassing files via the checkbox on the left of each item.
Screenshot via Google
Unfortunately, the only way to not have your voice recorded in the future would be to never use voice search ever again and turn it off. If that's worth it to you, at least you have the option.
And shut up about the sound of your voice. Everyone feels that way.
Sign up here for our daily Thrillist email, and get your fix of the best in food/drink/fun.
Kara King is a News Writer at Thrillist and her voice actually really does sound terrible in recordings. Send news tips to news@thrillist.com and follow her at @karatillie.