Google's Pixel Might Be a Legitimate Threat to the iPhone 7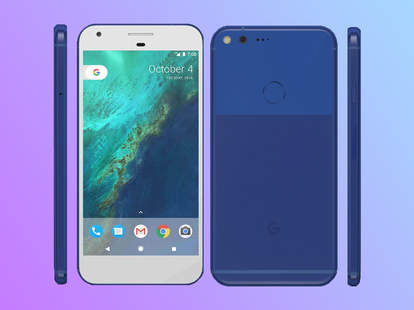 For years, smart phone manufacturers have wracked their brains trying to best the simplicity and sophistication offered by the iPhone. Today Google unveiled perhaps the most viable alternative to Apple's flagship device ever conceived. For Apple, which has been heavily criticized since bringing the iPhone 7 to market, Google's Pixel and Pixel XL will hit stores for the exact same price, offer totally comparable specs, and then some. It might even make some diehard Apple loyalists change teams.
As Wired notes, the Pixel and Pixel XL are priced at $649 and $769, which is the exact same price point for iPhone 7 and 7 Plus. Perhaps most conveniently, Google's phone has a big battery, which the company claims can reach 7-hours of power in a 15-minute charge. The Pixel boasts unlimited cloud storage for full-resolution photos and video, and the most sophisticated 12-megapixel smartphone camera ever, which is a boon for the future of mobile VR experiences. There's also Google Assistant -- the company's answer to Siri -- built into the phone whenever you need, proving Apple isn't the only company capable of finding you nachos at 3 AM.
Basically as a direct affront to Apple and its CEO Tim Cook, who's been heralding the dawn of a "wireless future," the Pixel maintains a 3.5mm headphone jack, so you can use whatever headphones you're most comfortable with. Google is basically declaring warfare in the marketplace by including a lightning-to-micro USB adaptor, which allows you to transfer all your photos from your iPhone to Pixel, just in case you wind up making the switch.
The signs are obvious that new smartphone race might be upon us. It's clearly Apple's move. We're just waiting to see what comes next.
Sign up here for our daily Thrillist email, and get your fix of the best in food/drink/fun.
Sam Blum is a News Staff Writer for Thrillist. He's also a martial arts and music nerd who appreciates a fine sandwich and cute dogs. Find his clips in The Guardian, Rolling Stone, The A.V. Club and Vice. He's on Twitter @Blumnessmonster.