Goose Island Just Unveiled a New Bourbon County Stout That Will Be Very Hard to Get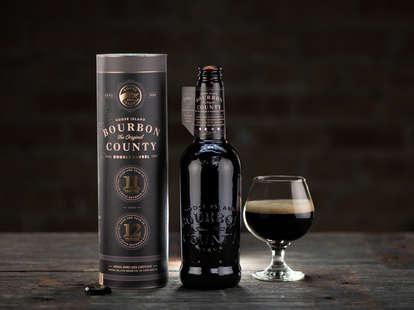 Anheuser-Busch InBev's continued acquisition of craft breweries is front of mind for many drinkers this month. Earlier in November, the world's largest brewing company announced it will acquire the Craft Brew Alliance, which includes breweries like Kona. That coincidentally comes just weeks before Goose Island, A-B's first big craft brewery purchase, held the annual release of its game-changing Bourbon County Brand Stout.
Except for the 2015 release, the beer has remained a delicious and sought-after release. Though, there have been changes over the years. The release has become an event that's not just for Chicagoans bold enough to stand in the cold on Black Friday. The feeling of exclusivity or urgency has become a thing of the past. However, on November 18, the brewery announced a release that looks like a promising twist on the style that ought to bring back that sense of urgency for anyone missing it.
In addition to the first official vertical of BCBS (a box that includes 2017, 2018, and 2019 editions), there will be a very limited release called Bourbon County Double Barrel Stout. This variant was aged for 12 months in 11-year-old Elijah Craig barrels. Those barrels were emptied after a year, and the beer was put into 12-year-old Elijah Craig barrels, which once housed the whiskey that won Whisky Advocate's 2017 Whisky of the Year. The stout sat there for another year before hitting bottles. Goose Island says "the result is a stout like no other," further describing it as "barrel-forward" and "incredibly intense" at an 18% ABV.
"I'm extremely proud of Bourbon County Double Barrel Stout," says brewmaster Keith Gabbett. "We aged Bourbon County for a year in 11-year old Elijah Craig barrels before we decided to up the ante and age it for another year, this time in 12-year old Elijah Craig barrels. The layering of two coveted barrels from the same distillery and the extended aging time allows us to really showcase what's possible with Bourbon County Stout."
Here comes the rub. The brewery says the Double Barrel Stout is the most limited variant it has made in the last five years. If you want one, you will have to enter a lottery, which at 9am on November 18 and closes on November 20. If you win a voucher, you get to buy the $55 bottle. However, you'll have to pick it up during one of the designated times at the Fulton Street Taproom in Chicago from November 29 to December 14. There's no other way to get ahold of it.
If you're balking at the price tag, maybe you'll feel better knowing that 100% of proceeds from the lottery will go to the Erie Neighborhood House. It's an organization "whose mission is to empower community -- Latinx immigrants alongside individuals and families of all background -- through education, access to critical services and advocacy, working together to create a just and inclusive society." That's a good cause, but winning the lottery is also going to cost you $55 a bottle. This is for people who really love their BCBS.
Sign up here for our daily Thrillist email and subscribe here for our YouTube channel to get your fix of the best in food/drink/fun.