Goose Island Will Give You Almost $10K to Keep Your Resolutions Going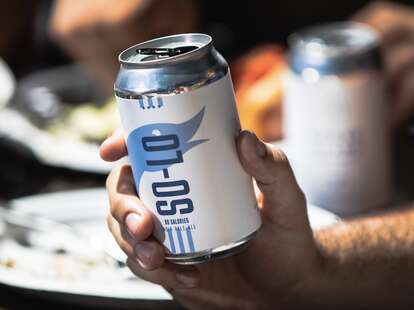 Courtesy of Goose Island
Courtesy of Goose Island
Keeping a New Year's resolution is tough, no matter what kind of goal you're chasing down. Getting a little help could go a long way. For once, your resolution might make it out of January. Goose Island, a former craft brewery purchased by Anheuser-Busch InBev in 2011, is offering to give you a boost.
The brewery, famous for its Bourbon County Brand Stout, is giving 10 people $9,800 each to strive for "small, realistic changes" in their life. The resolutions could be anything at all. Suggestions listed in the announcement include personal fitness goals, paying down student loans, or buying a flight to see your grandmother.
To throw your hat in the ring, you can apply online by submitting a 98-word written story or a 98-second video. Alternatively, if you happen to live in or are passing through Chicago on February 8, you can go to the Goose Island taproom and share your "2020 small change" plan in 98 seconds or less.
At this point, it's fair to ask why Goose Island and why the weird numbers? The company is one of many that hopes health-conscious drinkers will make low-calorie beer the hard seltzer of 2020. (Read: Will make them a boatload of money.) Goose's entry into the space is So-Lo, a 98-calorie IPA.
Winners will be contacted on February 21. It's not clear if the brewery will share information on the winners publicly. If they do, that might balloon the guestlist for your "$9,800 worth of beer" party you resolved to throw.
Sign up here for our daily Thrillist email and subscribe here for our YouTube channel to get your fix of the best in food/drink/fun.