Gordon Ramsay Is Opening New Hell's Kitchen Restaurants in 3 Cities
Craving Beef Wellington or Sticky Toffee Pudding, anyone?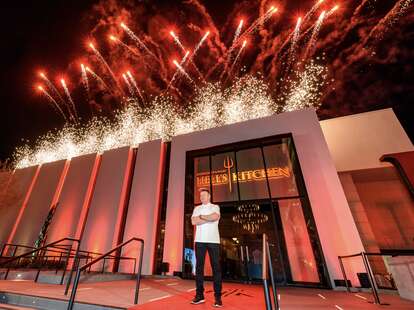 Photo courtesy of Caesars Entertainment
Photo courtesy of Caesars Entertainment
While appearing on the series Hell's Kitchen sounds like a nightmare (sorry, I'm not looking to go all "idiot sandwich" on national television), dining at Gordon Ramsay's restaurant of the same name sounds like the opposite. After all, the menu features the celeb chef's signature Beef Wellington and Sticky Toffee Pudding.
Ramsay's Las Vegas-based restaurant is expanding. On Thursday, the television personality announced plans to bring Hell's Kitchen to Miami, Chicago, and Washington, DC in 2023.
"We're opening not one more, not two more, but three more Hell's Kitchens," Ramsay said on Instagram. "We're going to kick off in Washington, followed by Miami, and then in Chicago. That's right, Hell's Kitchen is coming to a city near you."
The restaurant itself is actually modeled after the television series with those familiar red and blue kitchens and a flame rendering at the entrance.
The menu, meanwhile, will mirror the Las Vegas location with surf-and-turf fare that includes Ramsay's famed Beef Wellington, as well as Pan-Seared Scallops, Lobster Risotto, Crisp Skin Salmon, Shellfish Towers, and more.
"We are deliberate on trying to create a place that's different and not predictable, so consequently, when you get a big name you want to make sure it fits," John Asadoorian—whose brokerage group represents the Wharf in DC where the restaurant will be located—told Eater.