Gordon Ramsay Is Hilariously Trashing Random People's Food on Twitter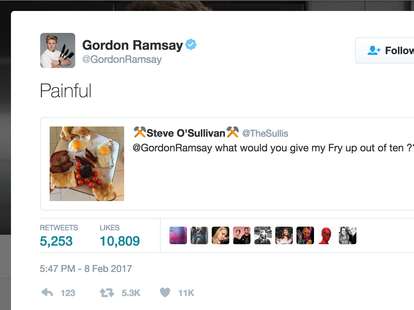 Gordon Ramsay isn't exactly a model of restraint or, uh, self-censorship -- just ask Jimmy Fallon. So, it should come as no surprise that the notoriously shouty chef is unleashing his blisteringly blunt flavor of criticism in response to fans' cooking photos on Twitter. And, yes, it's exactly as great as it sounds.
As a report by Munchies explains, the acid-tongued celebrity chef and entrepreneur is harshly critiquing photos of the food they just cooked. Basically, it's like Kitchen Nightmares, Hell's Kitchen, and MasterChef, but in this case, Ramsay's wrath is condensed to 140 characters. That, of course, doesn't make it any less devastating. Here are a few examples:
Pretty brutal, right? Well, that's not surprising. What you might find surprising, however, is some of of his other responses to fans' cooking in which he actually praises their dishes:
Of course, it's probably safe to say at least a few people are trying to elicit vicious responses from the chef with the images their posting, which is also pretty funny. Anyway, tweet him at your own risk.
h/t Munchies
Sign up here for our daily Thrillist email, and get your fix of the best in food/drink/fun.
Tony Merevick is Cities News Editor at Thrillist and is really tempted to send a photo of his next home-cooked meal. Send news tips to news@thrillist.com and follow him on Twitter @tonymerevick.