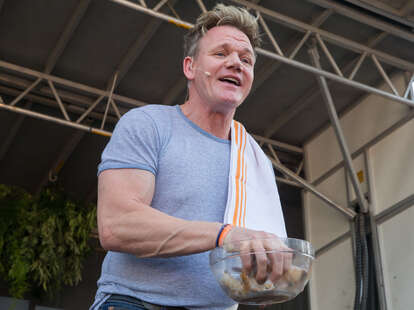 Sterling Munksgard/Shutterstock
If you're wondering where Gordon Ramsay gets his brash nature, we might finally have the answer. In a video posted to Instagram in honor of the UK's Mother's Day, the celeb chef's mom proved her son isn't the only harsh culinary critic of the family.
After offering his mum, Helen Cosgrove, a "little taste," she responded with a scoff. "I don't like that!" she told her Hell's Kitchen host son—along with an eye roll, no less. Hey, maybe Ramsay needs a bit of his own medicine?
"Happy Mother's Day Mum ! You may not enjoy my toppings but I love you xxx," he captioned the video.
Fans quickly took to the comment section with their own jokes. "Like mother like son?🤣" one fan wrote while another chimed in, "Where you got it from.😂🔥"
Ramsay might have a portfolio of successful restaurants and an illustrious resume of cooking shows, but one fan, in particular, made a fair point: "You can be the best chef in the world, but you ain't satisfying mom or cooking better than her." Touché.
Even Ramsay's daughter has come for his cooking. In fact, just last year, 19-year-old Tilly Ramsay made it clear in a series of TikToks that she actually prefers her mom's culinary efforts to her world-famous dad's.