Gordon Ramsay Totally Ruined Some Dude's Wedding Proposal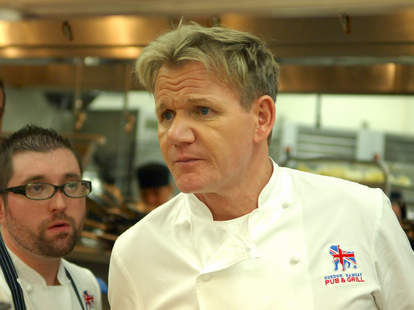 When Gordon Ramsay's not busy yelling, chasing down Bobby Flay for a dramatic cooking battle, or making helpful cooking videos on YouTube, the famously shouty chef is, of course, also running his 30 restaurants and bars and around the world. But in a recent incident at one of his Las Vegas restaurants, Ramsay committed a blunder that's truly worthy of a breathless series of four-letter expletives. 
Speaking at the Vegas Uncork'd food and wine festival, Ramsay recounted an actual "kitchen nightmare" in which he ruined a man's surprise wedding proposal, according to a report by The Telegraph. 
"Three weeks ago, one of my maitre d's asked me if I would go over to table seven, who were celebrating their engagement," Ramsay explained. "So I said: 'Send two nice glasses of champagne over to them.' When the champagne arrived I went over to congratulate them -- and he hadn't asked her!"
Well, shit. That's pretty damn awkward, chef. Needless to say, the aforementioned maitre d (whose first language isn't English and messed up the tenses) received a helluva "dressing down," per the report. It's unclear if the woman ended up saying "yes," but if she did, they'll at least have a great story to remember the occasion by instead of just a $21 burger.
Sign up here for our daily Thrillist email, and get your fix of the best in food/drink/fun.
Tony Merevick is Cities News Editor at Thrillist and feels like this is just another reason why you shouldn't propose to your significant other at a restaurant. Send news tips to news@thrillist.com and follow him on Twitter @tonymerevick.