This Company Just Unveiled a Solar-Powered Coffee Maker with a Charger for Devices
Never be without that coffee.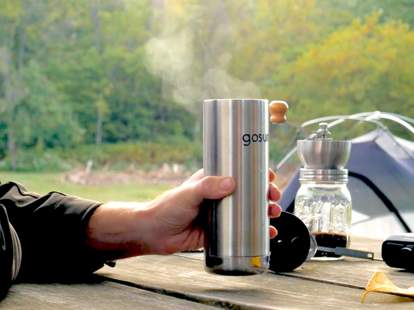 The pandemic has allowed a lot of people to discover (or re-discover) their love of nature through activities like camping, hiking, and stargazing. It requires no tools to enjoy the natural world, but there's also a vast world of gadgets and grown-up toys that come with the activities for many, from GPS to telescopes, binoculars to an entire world of camping gear.
There's also an expanding array of those products made with the environmentally-conscious in mind. GoSun has been one of those companies, creating solar-powered products with a focus on camping, but that can really be used anywhere. The newest addition to the lineup probably makes the most important—and often most frustrating—part of camping look easy. GoSun is launching a solar-powered coffee maker.
"Most people don't realize how hard it is to make coffee without fire while camping," Patrick Sherwin, Founder and CEO of GoSun, says. The GoSun Brew and GoSun Power 266 is being funded through Kickstarter, as the company has done with eight of its other solar-powered products, including solar grills.
Image courtesy of GoSun
The coffee thermos isn't just a handheld French press, it's also able to charge your devices when you're far from an outlet. The mug is a combination 12-volt heater and French press. That mug is charged by the GoSun Power 266, named for the 266-watt hours of capacity it holds. This is charged by the sun through a solar-panel pad, which unfortunately comes separately. The company says the Power holds enough, well, power to charge a laptop five times, a smartphone 22 times, or to brew eight cups of coffee. Importantly, it's also lightweight. GoSun claims that the Power 266 has "the best power to weight ratio of any energy device."
You probably didn't expect to be confronted with the reality of saying that a good cup of coffee in the morning is priceless. You're very much going to have to put a price on how highly you value the liquid that powers your mornings. The GoSun Brew and Power will run you $299 through the crowdfunding campaign. However, the list price on those is going to be $499 once the project ends. So, you'll be able to give yourself a bit of an early holiday present if you get on it and save yourself $200. Or, of course, you can get a non-solar-powered French press thermos for a whole lot less.
Sign up here for our daily Thrillist email and subscribe here for our YouTube channel to get your fix of the best in food/drink/fun.