All the Weird Green Food You Can Find on St. Patrick's Day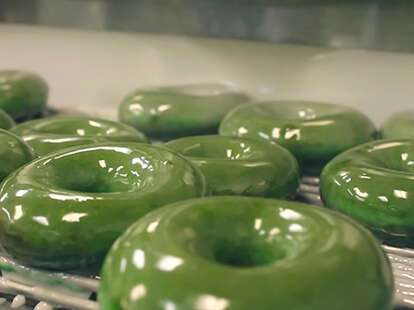 Krispy Kreme
Krispy Kreme
St. Patrick's Day is here. Despite the holiday having actual roots that mean something, for many it's an used as an opportunity to indulge. Maybe that's having a Guinness or two, maybe that's taking the day to put down some free food, or maybe you'd rather spend the day hunting down artificially-colored green foodstuffs en route to only eating green food for an entire day.
If the latter gets you in the spirit, you're in luck. Here are all the weird green foods you can track down from national restaurants in honor of St. Patrick, who would undoubtedly be thrilled you're celebrating him by eating green bagels.
McDonald's
The deal: Maybe the most iconic of weird St. Pat's food is the Shamrock Shack. It's back at McDonald's through March 17. The Golden Arches even has the "Shamrock Shake Finder app" for Android and iOS to help you track down the green ice cream.
When: Through March 17
Kripsy Kreme
The deal: The O'riginal Glazed Doughnut makes a return to Krispy Kreme. It's just the original glazed but in green. But that's an easy way to make the morning festive as you try to consume nothing but green food for a full day.
When: March 16-17
Dairy Queen
The deal: DQ is bringing back its Mint Oreo Blizzard in time for your day of only eating green food. The Blizzard is loaded with Oreo cookie pieces and "cool créme de menthe," blended into vanilla soft serve until you can hold the whole thing upside down.
When: Through March 26
Baskin-Robbins
The deal: You've got the luck of the... uh... the... something if you drop into Baskin-Robbins. From 3pm to 7pm you can pick up a free sample of Mint Chip 'n Oreo Cookies Milkshake.
When: March 17
Bruegger's Bagels
The deal: Originally introduced as a special at a Pittsburgh Bruegger's in 1997, shamrock-green bagels are an annual tradition for the bagel shop.
When: March 16-17
Dunkin' Donuts
The deal: If you prefer to have dessert for breakfast, Dunkin' will have a limited edition Mint Brownie Donut filled with mint brownie batter-flavored buttercreme. It's covered in green icing and brownie crumbles.
When: March 17
Wawa
The deal: The East Coast's favorite quick stop is rolling out a limited time sweet coffee called Pot of Gold. It contains salted caramel and green shamrock sprinkles over cold brew, frozen cappuccino, or a hot latte.
When: Through March 18
Carvel
The deal: The ice cream shop's popular CookiePuss cake becomes Cookie O'Puss for St. Patrick's Day. The ice cream cake has multiple layers, chocolate, a sugar cone of pistachio ice cream, two chocolate chip cookies, frosting, another cookie (of course), and shredded coconut.
When: Through March 14
Sign up here for our daily Thrillist email, and get your fix of the best in food/drink/fun.
Dustin Nelson is a News Writer with Thrillist. His favorite green food is cilantro. He doesn't think it makes him cool. He just really like cilantro. Follow him @dlukenelson.