Forget Flowers, Give a Bouquet Full of Pickles This Valentine's Day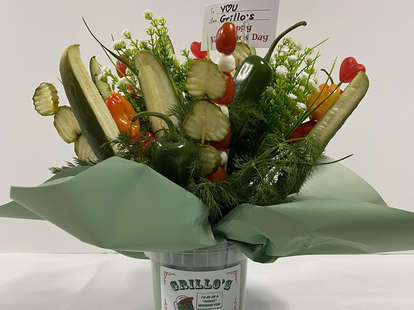 Edited - Courtesy of Grillo's Pickles
If you're in a bit of a pickle (sorry, we'll show ourselves out now) trying to figure out what to get your love for Valentine's Day, do everyone a favor and skip the flowers and heart-shaped earrings. Instead, we recommend showing your undying love with a DIY bouquet made from pickles. Lots and lots of pickles.
Grillo's Pickles is selling pickle bouquet-building kits for $25.00 so you can organize all your favorite vinegar-soaked cucumbers into a beautiful, tart arrangement. Add some hot Italian dill spears to keep things spicy, and maybe pickle chips cut into the shape of hearts to make the entire thing more festive. The fun is that you get to unleash your creativity and build your bouquet exactly how you -- or your beloved -- would want it.
The kit comes with a coupon for a free jar of Grillo's pickles, 15 wooden skewers, floral foam to hold it all in place, floral tissue paper, a cellophane bag, ribbon, an empty Grillo's container that serves as the vase for the bouquet, artificial floral filler to ensure the bouquet looks full, and a cute folded card for you to scrawl your sweetheart's name on.
To make the evening even more celebratory and filling, might we suggest purchasing a bouquet of breadsticks or gift box of cheddar biscuits?
Sign up here for our daily Thrillist email and subscribe here for our YouTube channel to get your fix of the best in food/drink/fun.
Kat Thompson is a staff writer at Thrillist. Follow her on Twitter @katthompsonn.