Skip the Flowers & Give a Pickle Bouquet for Valentine's Day
Grillo's Pickles will help you gift your sweet something sour.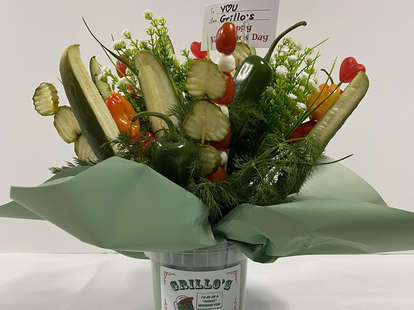 Edited - Courtesy of Grillo's Pickles
Edited - Courtesy of Grillo's Pickles
If you need a Valentine's Day gift and can't think of what to get, you might be a pickle. (I'm very, very sorry.) Flowers are a familiar go-to but aren't a particularly imaginative gift. They say that the fastest way to someone's heart is... you know, what? Forget it. Look, what I'm getting at are pickles. Pickles are an option. People love pickles.
For the fourth year in a row, Grillo's Pickles is offering a pickle bouquet kit. You can serve your love some floral-inspired vinegar-soaked cucumbers. Though, it doesn't come assembled. It also doesn't come with the pickles when you order it. The pack comes with a coupon for a free jar, 15 wooden skewers for the "flowers," a card and holder, tissue paper, floral filler, and a custom label for your jar.
So, you're giving pickles, but you are also going to have to put a little elbow grease into it. Arranging the pickle bouquet doesn't look too tough, but people have said that about Ikea furniture as well.
It's available through Valentine's Day for $20. Grillo's recommends tossing some cherry tomatoes, cheese cubes, and fresh dill in there to make the bouquet sing. Maybe even include a pepper or two if you're using the image above as a model.
Sign up here for our daily Thrillist email and subscribe here for our YouTube channel to get your fix of the best in food/drink/fun.