Hilarious Accidental Text Made It Look Like a Delivery Driver Was in Serious Trouble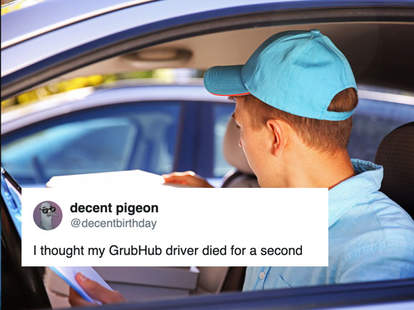 Shutterstock.com - Edited
When you have food delivered, you're putting a lot of faith in your delivery driver. You really have no idea what's going on from the moment you order until a stranger rings the doorbell. They could make off with your pizza to start a new life, they could get in a collision, or as is the case 99.9% of the time, they could bring you food with no mishaps whatsoever. 
One hungry Grubhub customer briefly believed themselves to be part of that 0.1% of times when something goes haywire. Twitter user @decentbirthday posted screenshots of their conversation with a delivery person, captioned, "I thought my GrubHub driver died for a second." It wound up being a totally justified assumption.
The messages start with the driver kindly asking if @decentbirthday still wanted a sandwich despite the restaurant's lack of tomatoes. Then it turned into the longest scream you've ever heard.
Fortunately, the driver wasn't in peril. You'd have to be a pretty big Monty Python fan to stop in the middle of the unnamed peril to text a stranger, "AAAAAAAAAAAAAAAAAAA."
The tweet generated a lot of funny responses, including one from Grubhub itself.
"If he was dying he wouldn't bother to text AAAAAAAAAA he'd just say it."
"Perhaps he was dictating."

— Chris (@ChrisXStevens) September 10, 2019
Sign up here for our daily Thrillist email and subscribe here for our YouTube channel to get your fix of the best in food/drink/fun.