Guinness Has Unleashed Its First Nationwide Beer Made at its New US Brewery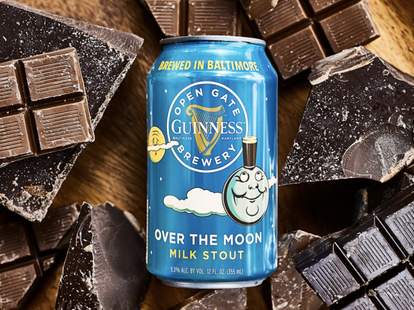 No beer screams Ireland as loud as Guinness. Though, that's going to be a little off base with the brand's latest release, Guinness Over the Moon Milk Stout. 
The beer is the first national release from the Guinness Open Gate Brewery in Baltimore, which opened in late 2018. While there was last year's Open Gate-brewed Barrel Aged Stout (aged in Bulleit Bourbon barrels), Over the Moon will be the first beer brewed exclusively in Baltimore to get a national release in the US. (And only in the US.)
For the time being, you'll find the 5.3% ABV stout on shelves in Baltimore, Boston, Washington, DC, and Philadelphia, in addition to the Baltimore taproom. They're calling it a "permanent addition to the Guinness family," but the full national release, slated for November, only has the beer available for a limited time.
"[It] was born from an idea to make a beer that could celebrate our stout brewing expertise, speak to a wide spectrum of beer drinkers, and also convey the creativity and versatility of our brewing team here in Baltimore," said Hollie Stephenson, head brewer at the Open Gate Brewery. "The beer has notes of caramel, chocolate, and a light roastiness that might remind some people of our historic stouts, however it finishes with a sweetness characteristic of milk stouts, which we believe makes this beer very approachable and appealing to a wider audience."
It might not be brewed in Ireland, but it's hard to argue that Guinness doesn't know how to make a damn fine stout.
Sign up here for our daily Thrillist email and subscribe here for our YouTube channel to get your fix of the best in food/drink/fun.