The World's Largest Pizza Is 8 Feet Long and Ready to Destroy All Other Pizzas
In America, land of large food, horrible spelling and general disfunction, Pizzas get swole. In Texas, a state that prides itself on excess, you can order a pizza that's basically as big as a wall-to-wall carpet.
Moontower Pizza Bar, located in the town of Burlson, recently claimed the prestigious Guinness World Record for largest commercially available pizza, by offering an 8' by 2' 8" behemoth on its menu. The pie will feed a party, and you'll likely need one to shoulder the expense of ordering one: A one-topping pizza costs $299.95 (plus tax), and needs to be ordered with 48 hours advance notice. A pizza of this size necessitates a warning.
Called "The Bus" by its creators, the pizza dethroned Los Angeles' Big Mama's and Papa's Pizzeria, the reigning champion of large commercially available pies since 2010. By Guinness' count, the new heavyweight champ registered at 1.98m² (21'² by 48in²), or 3,072 square inches, per the restaurant's description. The record-holder in gluttonous pizzas only takes about 30 minutes to make, and comes in a specialty box that is also very large.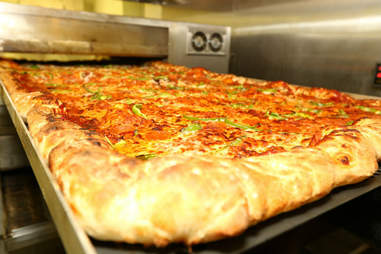 Courtesy Guinness World Records
A testament to raw American ingenuity and lots of dough and flower, Moontower's big ass pizza can now join its burrito counterpart at the top of the stunt-food marketplace.
Sign up here for our daily Thrillist email and subscribe here for our YouTube channel to get your fix of the best in food/drink/fun.
 
Sam Blum is a News Staff Writer for Thrillist. He's also a martial arts and music nerd who appreciates a fine sandwich and cute dogs. Find his clips in The Guardian, Rolling Stone, The A.V. Club and Esquire. He's on Twitter @Blumnessmonster.