The Best Reactions to Gus Kenworthy's Historic Olympic Kiss With His Boyfriend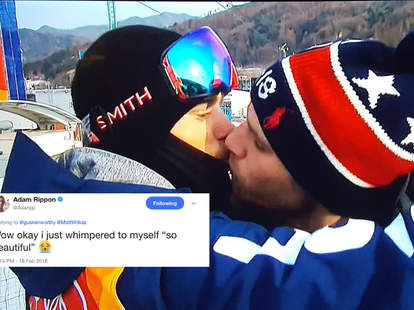 While Adam Rippon has received a lot of attention for being the first openly gay American athlete to have qualified for the Winter Olympics, his out gay teammate Gus Kenworthy just made some history of his own at the PyeongChang Games: Moments before skiing in the slopestyle event on Saturday, Kenworthy and his boyfriend, Matthew Wilkas, kissed on NBC's primetime broadcast. And while a quick smooch may seem entirely unremarkable to some, it marked a giant shift in the way openly gay athletes are covered by giant broadcasters.
Fittingly, the moment didn't go unnoticed, and in fact, went a bit viral on social media, with everyone from celebs to LGBTQ activists, and yes, fellow gay athletes including Adam Rippon cheering on the skier and his boo. Here's what people had to say on Twitter.
Didn't realize this moment was being filmed yesterday but I'm so happy that it was. My childhood self would never have dreamed of seeing a gay kiss on TV at the Olympics but for the first time ever a kid watching at home CAN! Love is love is love. pic.twitter.com/8t0zHjgDg8

— Gus Kenworthy (@guskenworthy) February 19, 2018
Such a simple capture during, say, the 1992 Olympics would have had huge meaning if I saw it on TV as an 11-year-old. You can't underestimate the simple, slight yet profound impact of such things. https://t.co/rvswJwiu7t

— Jon Murray (@JonMurray) February 19, 2018
When Mike Pence saw Olympic athlete Gus Kenworthy joyfully kissing his boyfriend, he warned Karen, "Don't get any ideas - you have to train for that" pic.twitter.com/t0hVVm4Vqm

— Paul Rudnick (@PaulRudnickNY) February 18, 2018
My kids and I watched from home and they didn't have any reaction. I hope that means we are turning a corner. Go Team USA!

— Steve M (@13stevem) February 19, 2018
yeah, but I don't have anywhere near the profile that Gus and Matt have. These boys, and Tom & Lance, they're changing the world 🙌🏾

— Matthew Mitcham (@matthew_mitcham) February 19, 2018
Even though Kenworthy didn't score a silver medal this time around like he did in Sochi, he still found a way to break new ground in a pretty meaningful way for many people. And it seems like that matters as much to him as winning.
Sign up here for our daily Thrillist email and subscribe here for our YouTube channel to get your fix of the best in food/drink/fun.