This Dude Ate Nothing But In-N-Out for 30 Days Straight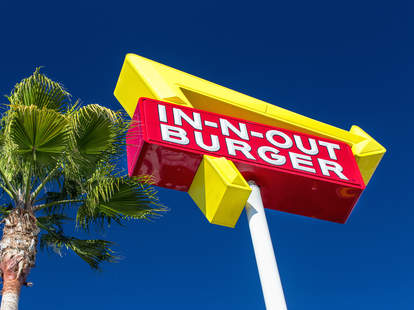 <a href="http://www.shutterstock.com/gallery-931246p1.html?cr=00&amp;pl=edit-00">Ken Wolter</a> / <a href="http://www.shutterstock.com/editorial?cr=00&amp;pl=edit-00">Shutterstock.com</a>
After that first bite of a Double-Double with grilled onions, you're likely to utter the words, "I could eat this every day." But the truth is, eating In-N-Out everyday will totally ruin it for you. Just ask this guy. 
As OC Native reports, 20-year-old Dustin Wang undertook a 30 day In-N-Out challenge with the following self-defined rules:
1. I must eat at least one In-N-Out meal per day.
2. I must order at least a two patty burger (Double Double or greater) with an order of french fries.
3. I have do to it for thirty days straight, no breaks in between.
Why? Well, the guy's from Virginia and says he didn't have the best fast food selection growing up. He describes his first time trying a Double-Double with Animal Style Fries as "the most delicious thing he ever ate." When you love something, why not push that love to its limits? Well, because that's a terrible idea. But here's how things played out:
 Day 5: He's excited
Day 7: Signs of slowing down
Day 10: The cravings die
Day 11: The Chick-Fil-A stumble
Day 13: Sluggish
Day 14: Nauseous
.
Day 18: Just terrible
Day 23: One week left and powering through
Day 29: SO CLOSE
Day 30: CHAMPION!!!
!
Wang varied his meals, always sticking to his initial guidelines. When asked how he felt in the end he said, "AMAZING. I definitely don't think I'll be able to eat In-N-Out for a good while. I only gained two pounds through the 30 days. My final weight was 160 pounds. I will say, although In-N-Out is delicious every once in a while and it's a high quality product, I would not eat it for a month straight again. Please don't try this at home, kids."
A lesson for kids and adults: You can have too much of a good thing. Even with grilled onions.
Sign up here for our daily Thrillist email, and get your fix of the best in food/drink/fun.
Kara King is a News Writer at Thrillist and is craving In-N-Out. Send news tips to news@thrillist.com and follow her at @karatillie.