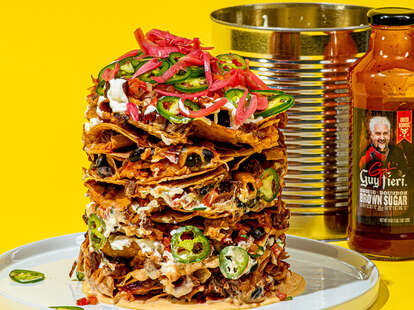 It's no secret: we want what we can't have. It's a human disease, but one Goldbelly is trying to remedy by curating food gifts from the country's most iconic restaurants. Missing Lou Malnati's? In dire need of Breads Bakery? The service lets you ship just about anything straight to your door. And now, that includes Guy Fieri's signature Trash Can Nachos.
The Mayor of Flavortown has partnered with Goldbelly to ship his nacho meal kits nationwide. Beginning Tuesday, you can turn your kitchen into Fieri's popular Vegas haunt, El Burro Borracho, where the famous dish is a menu favorite.
"Look out Flavortown! Goldbelly and I are bringin' ya my signature, real deal Trash Can Nachos nationwide…the complete kit, right to your doorstep," Fieri is quoted as saying in an emailed statement. "You're gonna dig 'em!"
The site has three varieties, too: Guy's BBQ Trash Can Nachos for $69—featuring tortilla chips, Cheddar cheese, a blended cheese sauce, black beans, BBQ sauce, pico de gallo, jalapeños, sour cream, cilantro, and red onions—or, if you're looking for a bit of an upgrade, his BBQ Brisket Trash Can Nachos and BBQ Pulled Pork Trash Can Nachos for $79.
"So excited to launch our partnership with Guy, one of the greatest food explorers of our time!" founder and CEO of Goldbelly Joe Ariel said in the email. "We worked with Guy to create the perfect kit to make his famous trash can nacho tower in your own kitchen with all the ingredients you need (and your very own trash can!). We're excited to Goldbelly a taste of Flavortown to your couch!"
Sign up here for our daily Thrillist email and subscribe here for our YouTube channel to get your fix of the best in food/drink/fun.
Megan Schaltegger is a staff writer at Thrillist.