Guy Fieri's Making a Takeout Edition of 'Diners, Drive-Ins, and Dives'
The Mayor of Flavortown is back with special new episodes, starting April 24.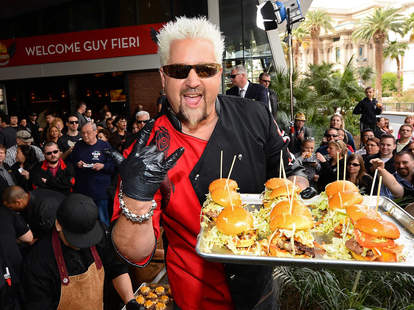 Ethan Miller/Getty Images News
The entire concept of Guy Fieri's iconic Food Network series Diners, Drive-Ins, and Dives is hinged on his ability to travel cross country and eat at the nation's most beloved "greasy spoon restaurants." But with the current stay-at-home orders and social distancing guidelines, the entire show structure is shot. Or at least, so we thought.
According to an announcement from parent company Discovery, Fieri has pivoted the project in response to the COVID-19 outbreak and is now filming three "Takeout" edition episodes, the first of which is set for a Friday, April 24 premiere.
"Triple D has always been about hittin' the road and celebrating the hard workin' folks of the restaurant business. And while the restaurants are partially closed and the Camaro is parked, DDD: Takeout is here to show you how your favorite chefs are still cookin' it up to keep people fed, support their communities, their families, and their employees," Fieri said in a statement Wednesday.
The show will retain much of its original component but with a twist -- it'll all go down via video chat. Chefs will send over an ingredient list to Fieri, hop on FaceTime, and show him the ropes for whipping up their most craved dishes, including chicken tamales, paella fritters, bangin' shrimp, and BBQ burnt ends.
"We are continuing to cook up creative programming ideas that entertain our viewers during these unprecedented times," Food Network president Courtney White added. "Diner, Drive-Ins and Dives is a fan-favorite, and we are thrilled to be able to still deliver it to our audience in unique ways."
A series marathon DDD: A to Z will kick off Saturday, April 18 at 1pm EST, ahead of the DDD: Takeout debut the following Friday at 9pm.
h/t Food & Wine
Sign up here for our daily Thrillist email and subscribe here for our YouTube channel to get your fix of the best in food/drink/fun.
Megan Schaltegger is a staff writer at Thrillist.