Guy Fieri on Anthony Bourdain: "He's Definitely Gotta Have Issues."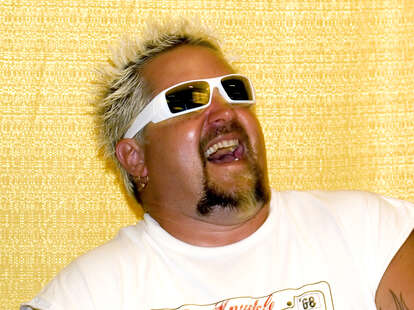 Human bowling league shirt, Guy Fieri, has been in the limelight recently after a lengthy profile on GQ. Alongside trying to jump-start his wine business, Fieri has used the attention to say some words about everyone's favorite culinary blowhard, Anthony Bourdain. While their feud is far from recent, human-sauce-on-a-white-shirt, Guy Fieri, reprimanded Bourdain for keeping the fight from ending:
"'It's actually disappointing...I don't like him making fun of people, and I don't like him talking shit. And he's never talked shit to my face. I know he's definitely gotta have issues, 'cos the average person doesn't behave that way. It's not that I'm not open to the reality that the food world was like this from a few people's perspective. It's just...what are you doing? What is your instigation? You have nothing else to fucking worry about than if I have bleached hair or not? I mean, fuck."
To be fair, Guy's hair is pretty distracting and infuriating.
In the excerpt, Fieri is asked about the time when Bourdain "mocked Fieri on Twitter when his yellow Lamborghini was stolen." Stifled laugh.
Of course, this is far from the first time Bourdain has given Guy Fieri crap for being...well, himself. "He's referred to Fieri's Times Square restaurant as a 'terror dome,' gleefully ripped on the dude's love of Nickelback, and claimed you'd get Fieri's clone 'if Ed Hardy fucked a juggalo.'" Even more stifled laugh.
Naturally, we've gotta wonder how this rumble is going to end. Maybe, like, barbecue sauce-coated swords or something? Just a thought.
Sign up here for our daily Thrillist email, and get your fix of the best in food/drink/fun.
Jeremy Glass is a writer for Thrillist and actually doesn't mind Guy Fieri's bleached head that much.
h/t: GrubStreet