Guy Fieri Is Opening a New Restaurant at Disney World & Everything Is Under $7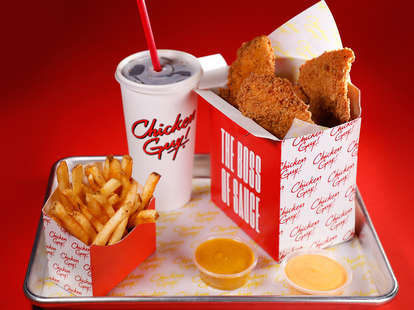 Courtesy of Walt Disney World
While he may seem like something a whimsical animater made up, Guy Fieri is in fact a living breathing citizen of Earth. And the people of Earth actually can't get enough of him, so his unique brand of restaurant is on its way to the land of actual animated characters: Disney World.
The Happiest Place on Earth(?) announced on Wednesday that Chicken Guy at Disney Springs will be opening up sometime this summer, right next to Planet Hollywood. His Mayorship of Flavortown is running the place with Robert Earl, and they hope to eventually transform this into a national chicken tender chain.
Chicken Guy will serve grilled and fried chicken via tenders, sandwiches, and salads. But that's not the big draw here: Because this is an annex of the kingdom of Flavortown, there will be 20 sauces to be used at your discretion, taken from either the counter or from a person whose entire job it is to walk around the restaurant spreading the saucy gospel with a condiment holster.
And everything will cost $7 or less, including desserts like the Triple Double Mint and Cinnamon Apple sundaes. The inventor of Donkey Sauce isn't known for his subtlety...
Also, there will be a life-size Guy Fieri selfie wall.
h/t Delish
Sign up here for our daily Thrillist email and subscribe here for our YouTube channel to get your fix of the best in food/drink/fun.