Guy Fieri Responds to Haters, Defends His Hairstyle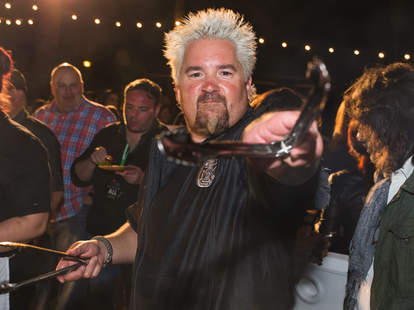 Somewhere, deep beneath his protective deep-fried crust and helmet of frosted spikes -- through all the layers of Ed Hardy, Donkey Sauce, and FLAVOR -- Guy Fieri is a person with feelings, too. And, apparently, he's tired of feeling "demoralized" from all the trash talk and jokes lobbed at him by critics, according to an extensive new profile in the June issue of Success magazine.
"I'm like anybody else," Fieri told the magazine. "You get enough, you can get beat up. You can get hurt. You can get frustrated. You can get demoralized."
Although he doesn't name names or specific examples (he doesn't really need to), Fieri said he's sometimes surprised by the level of hate people seem to have for him. Read the comments section on any given story about the Guy and you might be a little surprised, too. Oh, and of course, the longtime feud between Fieri and Anthony Bourdain might come to mind (Bourdain recently said he actually has "no hate" for Fieri).
"If there are 100 people who don't like me, 90 of them don't have a reason," he said. "Have I pissed some people off? Yes. Have I done wrong? I'm not sitting here saying I haven't. But most of the negativity is entirely superficial."
But despite all the shit he gets, Fieri's got just a few words for all the haters out there: "What you see is what you get with me." OK, he actually had a few more things to say: "What am I supposed to do? Am I supposed to stop being me? If someone boos a quarterback, does that mean he stops throwing his favorite pass?" Anyone else visualizing big saucy racks of ribs spiraling through the air?
Fieri even goes on to defend his often-ridiculed look, essentially saying he has no plans to ever change his "whacked out" ways:
"If I probably didn't have tattoos, or if I probably didn't bleach my hair, or if I probably didn't wear blue jeans and a T-shirt to fancy things, if I didn't do things that make me look like someone who's whacked out of their mind, it'd probably be different," he said in the interview. "But then again, that's how I wanna dress. And I like my tattoos. And I like my hair cut the way it is."
Basically, it takes a lot of guts to be the "Mayor of Flavortown," and Guy Fieri's got whole trashcans full of guts. And nachos.
Anyway, good for you, Guy. Good for you. Obviously, you should read the entire profile on Fieri over at Success magazine, right here. 
h/t Eater
Sign up here for our daily Thrillist email, and get your fix of the best in food/drink/fun.
Tony Merevick is Cities News Editor at Thrillist and actually enjoys reading and writing about Guy Fieri. Send news tips to news@thrillist.com and follow him on Twitter @tonymerevick.