Even Guy Fieri Wants out of His Restaurant. But, Like, Permanently.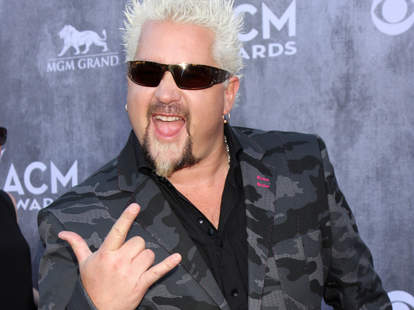 <a href="http://www.shutterstock.com/gallery-564025p1.html?cr=00&amp;pl=edit-00">Helga Esteb</a> / <a href="http://www.shutterstock.com/editorial?cr=00&amp;pl=edit-00">Shutterstock.com</a>
Hey BROCHACHO. You probably know the MAYOR OF FLAVORTOWN, Guy Fieri. And if that's the case, well, you're familiar with his OFF THE HOOK vernacular and the MILQUETOAST food he peddles in restaurants. OK, so he doesn't ever say milquetoast. I did that.
But now, it appears, the celebrity chef wants to abandon one his oldest restaurants -- and his partner's suing him because of it. SHUT THE FRONT DOOR!
Courthouse News Service reports Fieri's business partner, Steven Gruber, sued Fieri and Johnny Garlic's Inc. on Dec. 18 in Sonoma County Court to purchase Fieri's half of the shares of the business. Fieri and Gruber cofounded Johnny Garlic's in 1996 in Santa Rosa, CA -- well before the bleached-blonde food personality started screaming that sandwiches were "GANGSTA!"
According to The Press Democrat, Fieri petitioned to dissolve the business on Dec. 14, which spurred Gruber to sue. Thus far, the two sides have been unable to reach an agreement on a fair price for Fieri's half of the company. The chain has several locations throughout California aside from the original, including Windsor, Brentwood, Dublin, Roseville, San Jose, and Bakersfield. It's a real who's-who of places in California you won't visit on vacation, serving such items as Guy-Talian Spicy Sausage & Penne, Bourbon Buffalo Meatloaf, and sides of Donkey Sauce.
Fieri rose to prominence after winning "The Next Food Network Star" in 2006, with his show, "Diners, Drive-ins and Dives" scoring some of the network's best ratings. He's also experienced memorable backlash over his mainstream restaurants and mass marketing, particularly a scorching review from the New York Times' food critic Pete Wells and a memorable feud with Anthony Bourdain.

Sign up here for our daily Thrillist email, and get your fix of the best in food/drink/fun.
Ryan Craggs is Thrillist's Senior News Editor. He has not eaten at a Guy Fieri restaurant. Yet. Follow him @ryanrcraggs.