Guy Fieri's New Restaurant Has Over 100 Tequilas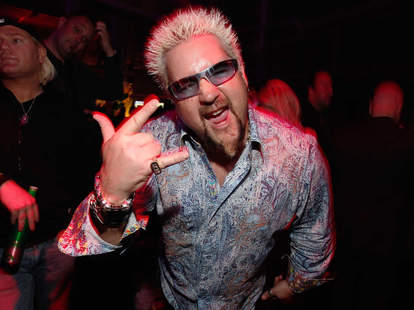 Christopher Polk/Getty Images for Maxim
While you were busy perfecting those bleached spikes for your Mayor of Flavortown costume, the actual Guy Fieri was hard at work on a new restaurant concept, Tequila Cocina. 
The street food-inspired eatery, which opened in Boston on Halloween night, has an impressive lineup of latin fare, including guacamole (four varieties!), tacos, and small plates. But here's the real sell: the bar is stocked with over 100 tequilas. There's a dedicated menu with way too many to list outright. But to make your selection a little easier, it's broken down into four categories: blanco, reposado, añejo, and mezcal.
Fieri's 6,000sqft space houses 185 seats and boasts a vibrant design with bright blue walls and custom Dirty Dek murals. Though the chef's impressive portfolio includes 70 more restaurants -- including an a chicken finger chain that boasts 22 dipping sauces -- this marks his first Tequila Cocina, a Big Night Entertainment Group collaboration. 
The food menu touts a number of dishes that, personally, I'm already dreaming about. Small plate options include Crispy Pork Belly, Queso Fundido, Crispy Cheeseburger Tacos, and Street Corn. There are also larger dishes like the Sizzling Molcajete de Carne y Marisco and Carnitas Chile Verde.
If you're willing to inflict extreme hanger on yourself, check out the full menu here.
Sign up here for our daily Thrillist email and subscribe here for our YouTube channel to get your fix of the best in food/drink/fun.
Megan Schaltegger is a staff writer at Thrillist. Follow her @MegSchaltegger.