What in the Actual F*** Is Gwyneth Paltrow's $185 Breakfast Smoothie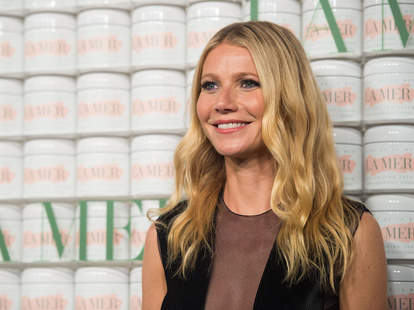 Gwyneth Paltrow's breakfast smoothie recipe makes no goddamn sense.
Posted recently to the Goop website, which has detailed innovations like vagina steaming, the blended breakfast originally appears in "The 2016 goop Detox." Its highlights include a "Surya Spa Dal" dinner and a "Crudités with Leftover Miso Dressing" snack. Suffice it to say: LOL.
But the upper-crustiest part of the bougie detox is this smoothie, which reads like wall-scrawlings from a psych ward; that is to say, in descending order of sanity. Behold:
1 cup almond milk
1 tablespoon almond butter
1 teaspoon coconut oil
2 tablespoons vanilla mushroom protein powder
1 teaspoon maca
1 teaspoon ashwagandha
1 teaspoon ho shou wu
1 teaspoon cordyceps
1 teaspoon moon dust of choice: Action Dust to soothe overworked muscles, Beauty Dust for a glowy complexion and healthy hair, Brain Dust to combat mental fogginess, Goodnight Dust when sleep has been evasive, Sex Dust, for, you know, and Spirit Dust to get that extrasensory perception going.
pinch Himalayan sea salt
pinch vanilla powder (optional)
Wat?
Not to go all John Madden here, but the recipe starts out with ingredients most granola-eaters have in a cupboard. Then vanilla mushroom protein powder pops up. Not just any protein powder. Vanilla mushroom protein. You'd assume that means mushroom protein that's flavored like vanilla, but then again, the ensuing four ingredients could either be real foodstuffs or mystical lands from a Tolkien novel.
Actually, let's play a game: Goop smoothie ingredient, or Middle-Earth creation?
a. Cordyceps
b. Anduin
c. Dol Amroth
d. Ashwagandha
e. Ho Shou Wu
f. A shaft of white light
g. Brandywine
h. Maca
i. Action Dust
j. Spirit Dust
k. Sex Dust
l. Brain Dust
m. Beauty Dust
n. Goodnight Dust
o. Mirkwood
p. Khazad-dum
q. A strong black-haired man with huge arms and a great beard
r. Vanilla mushroom protein powder
If you guessed a, d, e, h, i, j, k, l, m, n, and r as actual ingredients: Congratulations! You are a human encyclopedia of obscure foods, or a true Lord of the Rings nerd. In either case, Brit+Co went to the length of calculating how much such a concoction would cost -- at a minimum, $185. And that's not even counting the blender you'll need.
Just for measure, the Goop Queen herself even provided a hilarious quote to top it all off.
"And by the way, this is an extremely basic version," Paltrow said. "You can put in bananas or berries. Sometimes I put in half of a sweet potato and make like a little pumpkin pie smoothie. And that's really it."
That's it, indeed.
Is this smoothie bananas? Possibly. Is it basic? Surely. Will you ever make it? Not unless you've got $185 to blow on questionable "dusts" and other ingredients. If that's the case... well, you're probably better off taking a vacation to Miami and acquiring the dust for sale in South Beach nightclubs. It'll definitely change your life.
Check out the full 2016 goop Detox here.
Sign up here for our daily Thrillist email, and get your fix of the best in food/drink/fun.
Ryan Craggs is Thrillist's Senior News Editor. He actually consumes a smoothie for breakfast most days, except his cost about $1.50. Follow him @ryanrcraggs.