Here's Where You Can Get Halloween Tattoos for Cheap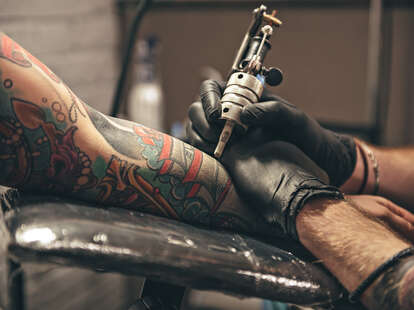 Shutterstock.com
Shutterstock.com
Halloween is nearly as big of a holiday as Friday the 13th at some tattoo parlors.
For a Friday the 13th celebration, many shops allow you to pick a design from a flash sheet and get a tattoo for $13 and a lucky $7 tip. Many artists and shops offer deals for Halloween as well, even if you aren't likely to find ink for quite that cheap. (Though, don't forget that it's a tattoo and getting it as cheap as possible probably shouldn't be the goal.) Nonetheless, Halloween is a fun time to grab a gruesome tattoo from a flash sheet and enjoy an event thrown by your favorite shop.
Here are some tattoo parlors across the United States that are participating in Halloween specials so you can get yourself a little something special.
Halloween Tattoos in Austin
All Saints Tattoo
Take your pick from 50 full-color Halloween designs at the North All Saints location. Each one will run you just $50 from noon to midnight on Halloween. Wear a costume, and you'll be getting some Halloween candy, too, because you're a good kid. (You don't have to get a tattoo to get some sweets.)
Halloween Tattoos in Chicago
Mind Crusher Tattoo
You can grab a "baseball-sized" tattoo, some of which are full color, for $31 with a minimum $9 tip. You'll have to stop in to check out the flash sheets, though. You'll be able to start getting the ink up to a week before Halloween, the shop tells Thrillist. Dive in.
Halloween Tattoos in Los Angeles
Alchemy Tattoo
Ghoulish Halloween tattoos will be offered all month, starting at $80. The flash sheets will be posted to Alchemy's Instagram page as they're created. There are already a few designs posted that you can check out.
Broken Art Tattoo
Broken Art is tattooing creepy flash art all week with a special "every Friday for Freaky Flash Friday." The art lives up to the adjectives. Check out a bit of the art above, taken from their Instagram page. Prices range from $150 to $250.
Mr. Inkwells
You've got two options for tattoos on Halloween here. The parlor is offering tattoos from a flash sheet for $66.60 (ahem) or you can get 10% off a custom piece.
Halloween Tattoos in Minneapolis
Minneapolis Tattoo
Stop by the shop on Halloween between 11am and 8pm -- dressed up or not -- to pick a design from flash sheets crafted in-house by Minneapolis Tattoo artists. You'll be able to preview select designs on social media close to the date.
Halloween Tattoos in Nashville
Grace & Glory Tattoo
If you stop in on October 19, you'll be able to check out flash sheets with tattoo options priced at $60, $100, and $150. They'll share the flash sheets on social media the day before the event.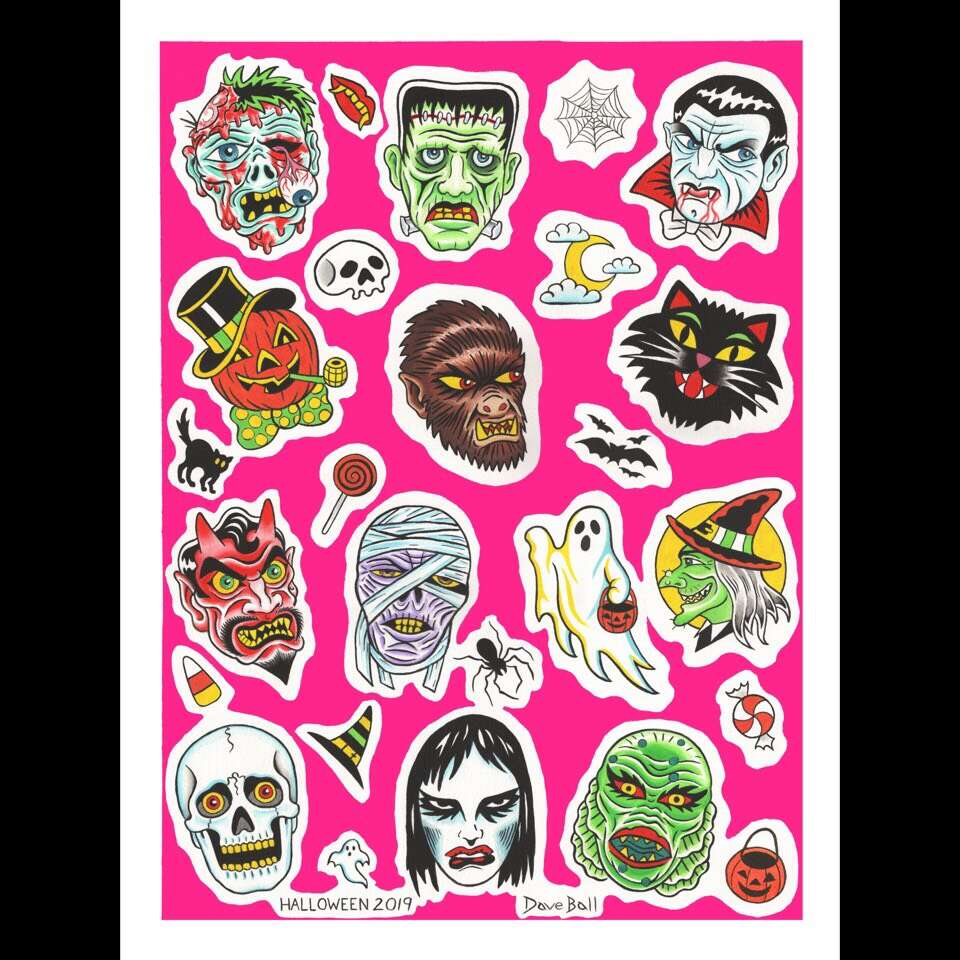 Halloween Tattoos in New York
Magic Cobra Society
Get your Halloween ink early. The Cobra will let you choose from over 20 designs on October 26. First-come, first-served on pieces that will range from $50-200, you monsters.
Halloween Tattoos in Philadelphia
12 Oz. Studios
All month long, artist David Carreras will be offering flash specials at the Deptford, New Jersey location. Preview a few of the options through the shop's social media.
Hunter Gatherer
Starting at noon on Halloween, each artist will offer their own deals and flash sheets. Devils and fiends looking for tattoos should keep up with HG's social media channels to keep tabs on what they'll be doing. (It's possible they'll add more days of the specials, we're told.)
Moo Tattoo
Flash sheets will be available and each design will only run you $31 from October 31 to November 2. Additionally, you'll find $130 "VIP Halloween designs." There's also the possibility of getting custom work done on Halloween. Find details on how to get an appointment and preview designs at the Moo Tattoo website.
Halloween Tattoos in Portland
Adorn Uptown
Adorn will be celebrating the grand opening of the new Adorn Uptown on Halloween. The party starts at 11am and runs all day. In addition to tattoos and piercings at the opening, there will be raffles with tons of prizes. You can also mention the shop's Facebook post to get 20% off a gift certificate.
Halloween Tattoos in San Diego
True Fit Tattoo Studio
On November 1 and 2, True Fit will do tattoos for Dia de los Muertos. The invite says there will be custom designs at discounted prices. That's all we know, for now. Keep tabs on their social media to get more details as November approaches.
Halloween Tattoos in San Francisco
Moth & Dagger
You can prepurchase a Halloween appointment for $120 through Eventbrite. All appointments will be on October 26, and the flash sheet will be shared via the shop's Instagram page.
Halloween Tattoos in Seattle
Super Genius Tattoo
The shop will be running deals from flash sheets designed in house every day over the weekend before Halloween from noon until 10pm. The designs will be posted to Instagram as they become available.
Sign up here for our daily Thrillist email and subscribe here for our YouTube channel to get your fix of the best in food/drink/fun.