This Town Plans to Fine Teenage Trick-or-Treaters $250 This Halloween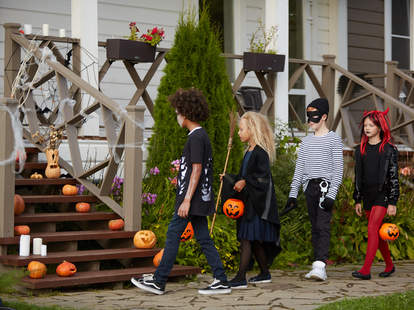 There's a point in all of our lives when we stop dressing like witches and ghosts for Halloween and start dressing like... sexy witches and ghosts. And while you should absolutely let your freak flag fly, a town in Virginia is banning the latter camp from trick-or-treating. In fact, anyone simply over the age of 14 caught trolling for candy will be slapped with a $250 fine. 
This ordinance isn't new either, as CNN reports. It's been around for 49 years. The town passed the law in 1970 following two "violent" Halloweens prior. "All cities in the Hampton Roads region, which Chesapeake is a part of, passed an ordinance that said if you were older than 12, you can be subject to an arrest, a fine, and/or jail time," city spokesperson Heath Covey said, per the report.
Though, technically, trick-or-treating is only allowed for the under 14 crowd, according to Covey, officers are not actively ID-ing kids. You have to be doing "something malicious" like egging your neighbors or smashing pumpkins. "We want every person in Chesapeake to have a fun and safe Halloween. This ordinance will not prevent them from doing that," he added.
Prior to last year, and a certain viral Jimmy Kimmel video, the age restriction was actually 12. However, the town got roasted so hard they decided to lighten up... just barely. They hiked up the age by two years.
However, in March of this year, officials updated the rules to include further restrictions -- because, clearly, they're no fun. Now trick-or-treaters of any age are required by law (!!!) to wrap up their candy panhandling by 8pm. 
h/t AOL
Sign up here for our daily Thrillist email and subscribe here for our YouTube channel to get your fix of the best in food/drink/fun.
Megan Schaltegger is a staff writer at Thrillist. Follow her @MegSchaltegger.