Halo Top Is Unleashing a Line of Keto-Friendly Ice Creams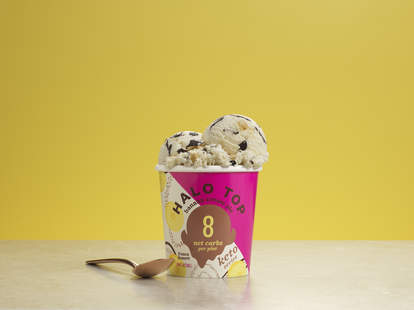 Almost four weeks into the new year, we're wondering if anyone remembers their new year's resolution. If you do, congratulations. You're beating most of us. If you've acted on that resolution, you deserve a party. If your resolution has anything to do with changing the way you eat or, in particular, a ketogenic diet, Halo Top would like to tempt you.
The ice cream slingers have unveiled a new Keto Series of ice creams that features seven new flavors. Each is made with "ultra-filtered skim milk," which, the company attests, "delivers fewer calories than regular milk," in addition to being a good source of protein.
If this sounds like it's up your alley, you'll be able to choose from Peanut Butter Chocolate, Caramel Butter Pecan, Chocolate Cheesecake, Jelly Donut, Berry Swirl, Banana Cream Pie, and White Chocolaty Macadamia Nut.
"Our brand is focused on making delicious dessert that everyone can feel good about eating, and these new flavors allow us to do that for our fans looking to limit their sugar intake," Meg Graeff, Halo Top's senior brand manager, said in a statement.
The moral of the story is that no matter what time of year it is or what your new year's resolution might be, you should never stop eating ice cream.
Sign up here for our daily Thrillist email and subscribe here for our YouTube channel to get your fix of the best in food/drink/fun.