Halo Top's New Pumpkin Pie Ice Cream Has About the Same Calories as One Slice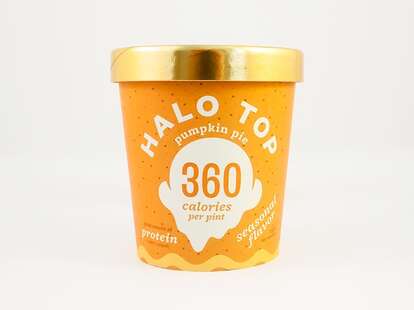 While it's only been a little over a week since Halo Top unveiled seven new low-calorie ice cream flavors you can eat a pint a time, it turns out the increasingly popular creamery has yet another new flavor heading for right for your local frozen food section and late-night ice cream binges. On Friday, the company announced it's unleashing a surprise, limited-edition flavor just for fall: pumpkin pie.
Mid-August, of course, is way too early to even fathom eating pumpkin pie or pumpkin pie-flavored snacks, but Halo Top said the new pints will start hitting store shelves nationwide as soon as next week, but they'll only be available while supplies last, according to a spokesperson. As with Halo Top's existing lineup of flavors, the pumpkin pie ice cream is also made to capitalize on your proven ability to polish off an entire container of ice cream in one sitting. The entire pint totals 360 calories, which is around the same number of calories in a slice of actual pumpkin pie (roughly 325) and fewer calories than a grande Pumpkin Spice Latte (380). Pie, of course, is in its own league, though.
Pumpkin pie comes on the heels of Halo Top's batch of seven new flavors, including Cinnamon Roll, Rainbow Swirl, and Candy Bar. This is all to say that if you're inclined to trade your go-to pints of traditional ice cream for something you can feel slightly less terrible about eating, well, you've got options.
Sign up here for our daily Thrillist email and subscribe here for our YouTube channel to get your fix of the best in food/drink/fun.

Tony Merevick is Senior News Editor at Thrillist and is powerless to a good pumpkin pie-flavored ice cream. Send news tips to news@thrillist.com and follow him on Twitter @tonymerevick.