Taco Bell's Baja Blast Is the Latest Hard Mtn Dew Flavor & It Has a 5% ABV
The boozy Baja Blast will have zero sugar and zero caffeine.
The craze around turning beloved drinks into alcohol-infused beverages is showing no signs of slowing down. The Boston Beer Company and PepsiCo have unveiled the fourth flavor in the Hard Mtn Dew lineup, and it is Baja Blast. The beverage will have a 5% ABV, 100 calories, zero sugar, and zero caffeine.
Hard Mtn Dew Baja Blast will be released in certain states as part of a variety pack including the Original, Black Cherry, and Watermelon flavors starting in February. The reveal of this fourth flavor was first teased during the original announcement of the spiked version.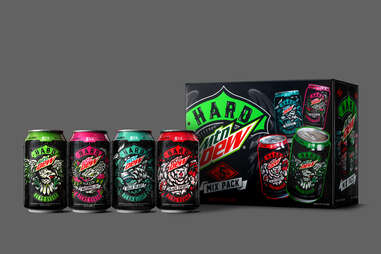 Given its fan following, it's not too surprising that Baja Blast is the fourth flavor in the Hard Mtn Dew lineup. In the 18 years since its initial release, the popular drink's fanbase has made their own Baja Blast merchandise, created a 22,000-plus Reddit community, and even trade collector's items.
To get the updates on when and where the variety pack will be available, follow Hard Mtn Dew's social media accounts on Twitter and Instagram.