Hardee's Will Pay You $1,000 to Develop a New Biscuit Recipe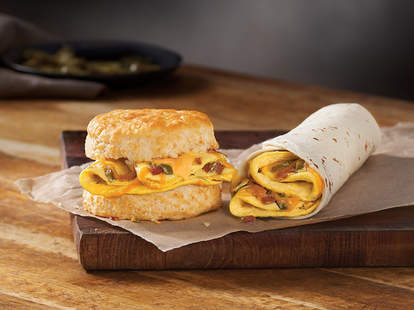 I'm hardly an experienced chef. In fact, I'm more like a professional Postmates orderer, but that's neither here nor there because Hardee's is opening up the floor for anyone to develop its next biscuit recipe. 
The fast food chain is looking to its customer base for their "handcrafted, hometown biscuit innovations." The culinary team will then select a winner, who will score a $1,000 worth of Sausage Biscuits, and the recipe will hit menus nationwide. Two honorable mentions will also receive a little something, something for their efforts. 
Participants will be judged on three categories: handcrafted (are real ingredients used? Will it pair well with Hardee's iconic biscuits?), Hometown Comfort (they wanna see "exciting twists!"), and Innovation (get a little crazy with your recipe), according to the chain.
"The Hardee's community is inspirational -- from hometown flavors to employee creations to its passionate fan base -- which is why we're calling on our fans everywhere to submit the ultimate biscuit recipe," Senior Director of Brand Marketing Jenna Folk said in a statement. "Our customers know and love the brand for our hand-crafted, unexpected originals. This challenge gives fans the chance to contribute their take on the Hardee's values -- and bring their unique creativity to develop the next great biscuit." 
The #HardeesBiscuitChallenge was actually inspired by Wichita, Kansas-based District Manager Bill Hopper, who created several items of his own that have since hit menus, including the Southwest Omelet Biscuit and Southwest Omelet Burrito. The Culinary Innovation team followed up his ideations with a Southwest Patty Melt and Jalapeño Cheddar Fries, all of which are available for our eating pleasure.
h/t Chew Boom
Sign up here for our daily Thrillist email and subscribe here for our YouTube channel to get your fix of the best in food/drink/fun.