The First 'Harry Potter' Audiobook Is Now Available for Free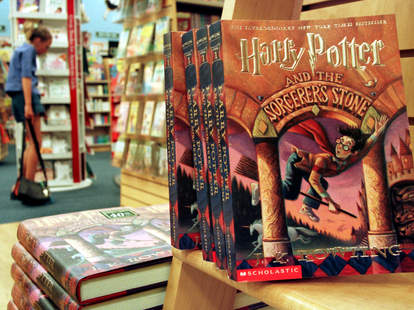 Alex Wong/Newsmakers/Getty Images
We social distancers are trying our best to feel connected to the world by taking virtual trips, hosting happy hours via video chat, and reading cringy romance novels for free on Apple Books. But many of us still long for physical touch, or else to have charming British men read novels to us for hours. 
Well, long no longer, my quarantined, because the first Harry Potter book, narrated by Stephen Fry, is now available for free on Audible. The release of Harry Potter and the Philosopher's Stone (published as Harry Potter and the Sorcerer's Stone in the United States), is part of an initiative launched by J.K. Rowling to help keep people busy while the world is partially shut down.
This is good news for social distancers, and it's incredible news for everyone whose been trying to get their hands on the UK version, which was previously only available on UK Audible. The debate between which Harry Potter audiobook narrator is better -- UK's Stephen Fry or US's Jim Dale -- has divided fans for some time. Both men have spoken every single book, but Stephen Fry's version, which is characterized by a deeper voice and narrative grandeur, has the original text as written by J.K. Rowling. 
Keep in mind that you still can't download the Stephen Fry version from the US -- it's strictly streaming. To listen, head on over to stories.audible.com. Or listen to Jim Dale say Her-MAAH-nee. 
Sign up here for our daily Thrillist email and subscribe here for our YouTube channel to get your fix of the best in food/drink/fun.