The Largest Harry Potter Store in the World Is About to Open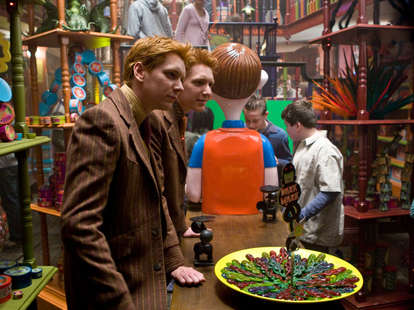 Warner Bros.
Warner Bros.
Muggles worried there isn't enough magic in their lives are about to get another opportunity to don their school robes and earn a wand from Ollivander. Plans have been revealed for the world's first Harry Potter flagship store. It'll land next to the iconic Flatiron building in New York City at some point during summer 2020.
The building will house "the largest collection of Harry Potter and Fantastic Beasts products in the world under one roof," according to Thursday's announcement. So, you'll get plenty of the goodies you've previously found at Universal's Wizarding World as well as some new items like house wands that are exclusive to the New York location.
The store will house three floors of wizarding goods, in case you were worried you might have everything Harry Potter-related in your house already. Unless you're the Harry Potter version of the weird Garfield guy on I Think You Should Leave, you'll probably find something new here.
While it plans to open relatively soon, it hasn't been all Quidditch practice and Fizzing Whizbees for the project. The Wall Street Journal reports the store ran into a speed bump at a community board meeting. At the heart of the disagreement are the store's plans for a dragon and "wand-style" flagpoles outside the building. Modifications to the outside of the building that formerly housed a Restoration Hardware were denied.
"Flagpoles are a big no-no," Layla Law-Gisiko, chair of the committee, told the Journal. "If Harry Potter can put a dragon, then Nike can put a shoe, then the bakery down the block could put a croissant, and then where do you stop?"
The paper also reports that in addition to retail items, the store will have food and beverages, as well as a plan for a service window on Broadway and a future Potter-themed sidewalk cafe. Get ready to bust out your best hand-me-down dress robes, because it sounds like there will be wizard dining on the streets of Manhattan in the near future.
Sign up here for our daily Thrillist email and subscribe here for our YouTube channel to get your fix of the best in food/drink/fun.