Harry Potter: Wizards Unite isn't a week old and changes are already coming to gameplay. On Monday, game developer Niantic announced the game's first real-world interactive partnership. A new collaboration with AT&T and Simon is making select AT&T and Cricket Wireless retail stores, as well as Simon Malls in the US special locations inside the game. AT&T and Simon locations are already active and Cricket stores will activate on July 15.
The witches and wizards immersing themselves in Wizards Unite will be able to go to one of these real-world stores and find a special Inn or Fortress inside the game. They will offer more XP at Fortresses and more Spell Energy at Inns than you'll find at any non-sponsored location. 
"We're excited to team up with AT&T and Simon to create a variety of custom Harry Potter: Wizards Unite gameplay experiences for players visiting the thousands of retail stores and large-scale shopping destinations around the United States," Omar Tellez, vice president of strategic partnerships at Niantic, said in a statement. Obviously, the company wants to make money, and this gives a little insight into ways that the creators could start to leverage the number of people playing without getting players to make in-game purchases. (Though, they want those too.)
In addition to the bonus XP and Spell Energy, the release notes that players will be able to take part in "limited time quests only available at AT&T and Cricket locations to help them level up faster." Moreover, the release previews what kind of events might be coming down the line. "AT&T will also be a key sponsor at Harry Potter: Wizards Unite real-world events in the future," it says. It's something Niantic has done for Pokémon Go in the past with mixed results.  
The partnership with Simon will be slightly more limited for users since there are only around 200 locations. Simon Malls, Mills, and Premium Outlets have already implemented "an amplified Harry Potter: Wizards Unite" experience with "increased rewards and elusive enemies," the release states. Simon properties will also host real-world events and specialized QR quests sometime in the near future.
What to expect playing Wizards Unite at AT&T locations
Niantic declined to provide numbers about how much additional XP and Spell Energy users should expect when playing near an AT&T or Cricket store. So, I tried it out for myself.
The bonus XP and Spell Energy offered isn't overwhelming. At the Inn, over a good chunk of time, I never got a platter with just two or three Spell Energy, but it wasn't an incredible booty, either. It's certainly worth it if you're nearby. But it didn't seem like the amount of XP I got at a Fortress or the amount of additional Spell Energy I got from being at an AT&T Inn was something you have to seek out or you'll never hit level 60. However, that doesn't mean the difference isn't noticeable.
I also dropped a Dark Detector into the Inn to see if it made a difference. It's hard to say without being able to control for the variables, but there were quite a few Foundables nearby and they reappeared with greater frequency than I have seen around other Inns. With the Dark Detector in place, I didn't get any Confoundables or Foundables that were totally new to me, but I was getting a high number of Foundables for which I needed fragments to finish the image in the Registry. This is, of course, anecdotal, but, as Dumbledore said, "One can never have enough socks." Or something.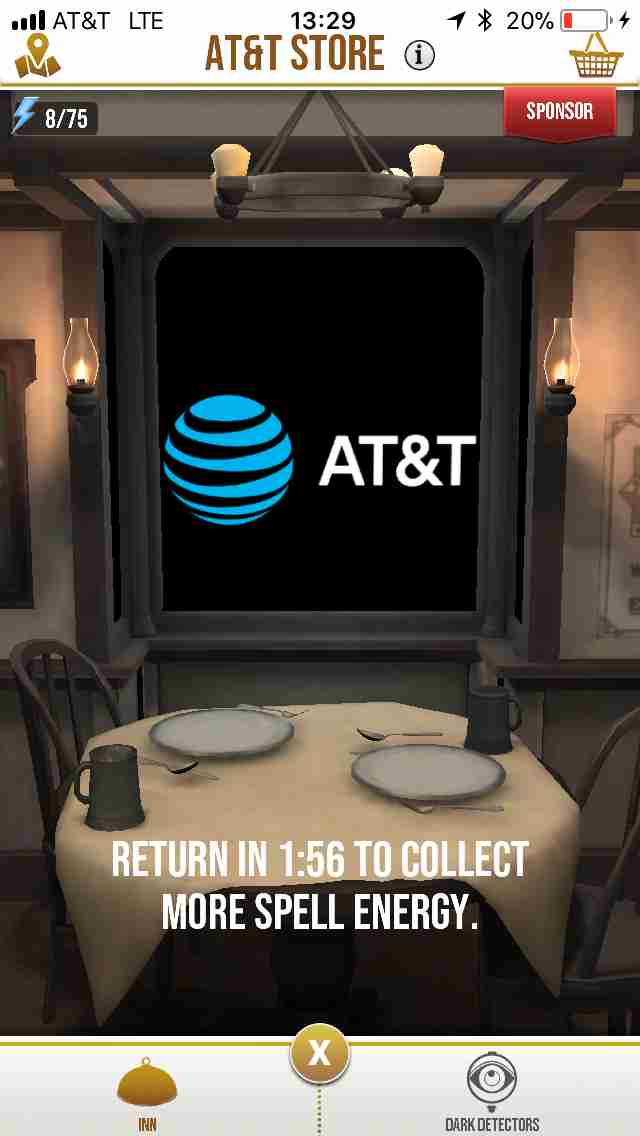 Sign up here for our daily Thrillist email and subscribe here for our YouTube channel to get your fix of the best in food/drink/fun.