The new Pokémon Go-esque AR game from Niantic arrived a day early on June 20, and people are already playing Harry Potter: Wizards Unite in droves. 
However, users are quickly learning that their Spell Energy can become depleted in a hurry as you run around the neighborhood collecting Foundables and fighting dark wizards. It may seem like a small thing, but once you're out of Spell Energy (represented by a lightning bolt in the lower left-hand corner), you're kind of done playing until you get some more. It's already become the biggest complaint among users who jumped head first into the game on day one.
Recommended Video
These Tacos Are Made for Dunking
How to get more Spell Energy
Spell Energy functions similarly to Poke Balls in Pokémon Go. You will use one of them almost every time you have some kind of confrontation. In Wizards Unite, you use Spell Energy each time you fight another wizard or cast a spell on a Foundable to retrieve it.
The default amount of Spell Energy you can carry at any one time is 75 (more on this later), and it costs one Spell Energy for each spell you cast (though, it can take multiple attempts to capture a Foundable since they frequently resist your spell, especially when your character is at lower levels). 
There are two primary ways to get more Spell Energy. The easiest is to find an Inn. Walk to one and enter. You'll be offered what the game refers to as food. The plates will shuffle themselves, then you cast the spell presented by the game. When successful, you are rewarded with Spell Energy. You'll collect anywhere from 1-10 Spell Energy per visit. (At least, those are the confines we've seen so far.) You then have to wait five minutes before you're allowed to interact with that same Inn again. You can, of course, go to another Inn inside that five-minute window. This is the same wait period you'll encounter after entering a Greenhouse.
Your other option for collecting more Spell Energy is to head to Diagon Alley and buy some using Gold Coins. Enter the game's store (Diagon Alley) and click into Wiseacres, which looks like a crystal ball icon. You can buy 50 Spell Energy for 100 Gold Coins. Those coins can be earned through gameplay or you can buy them with your hard-earned muggle money.
Additionally, in Wiseacres, you have the option to increase your Spell Energy Capacity. For 150 Gold Coins, you can increase your Capacity by 10. It's not cheap, but with how quickly 75 Spell Energy disappear, it's not a bad use of your gold.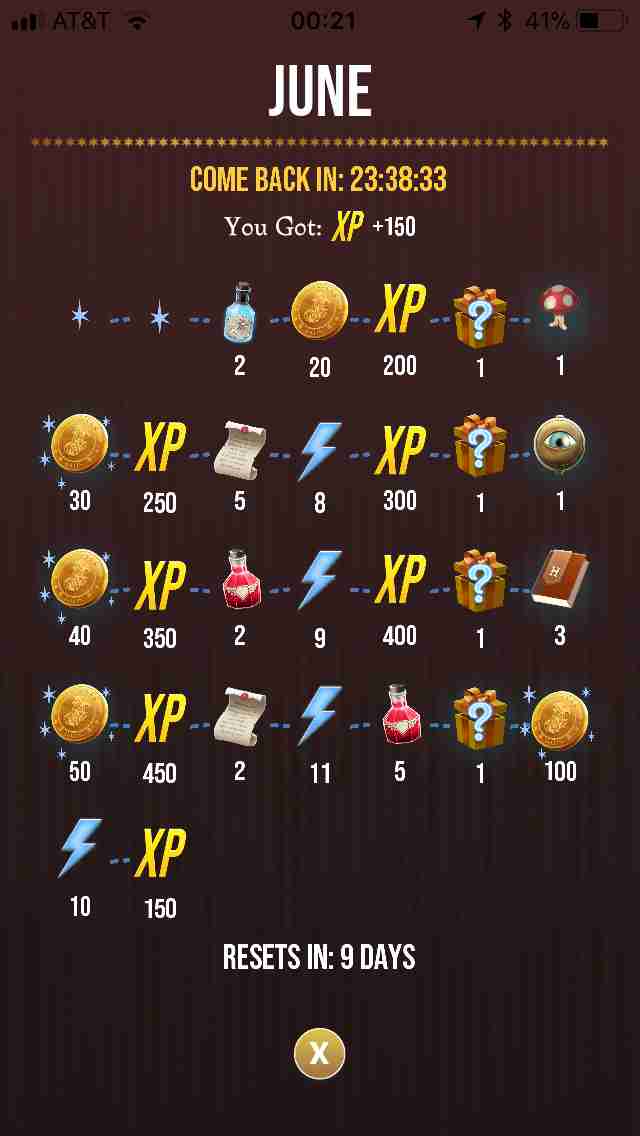 There are additional, less reliable ways to land a little Spell Energy as well. When you stop into a Greenhouse, you'll usually collect other items, but on occasion, you'll get a little Spell Energy with your herbs and plants as well. There is also Spell Energy available in your daily rewards. However, as you can see in the screengrab above, it's not an overwhelming number of Spell Energy and its only the reward about once per week.
Select challenges in your Daily Assignments will also result in you being rewarded with more Spell Energy. 
So, there are a handful of ways to get more, and you should be aware of them because you basically can't play the game anymore once you run out. 
Sign up here for our daily Thrillist email and subscribe here for our YouTube channel to get your fix of the best in food/drink/fun.