What's the Best Time of Day to Poop? There's a Real Answer!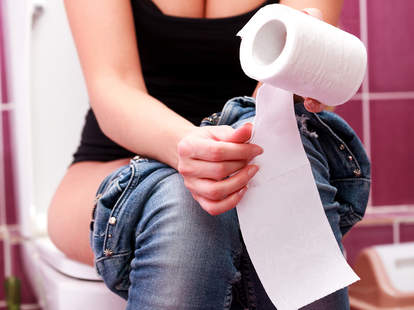 Everybody poops. But, not everybody poops at the ideal time. Yes, there is an ideal time to poop, and it's important for your health.
Kenneth Koch, M.D, recently revealed to Women's Health that pooping in the morning the best time for your well-being. Before you go to work or drop the kids off at school, you should drop the kids off at school. That's a euphemism for pooping. Koch recommends making this a a regular part of your day, saying, "You can think of 100 reasons you don't have time. But have that breakfast, recognize that urge to have a bowel movement, and then take the time. That's how you get into a regular movement."
This is important because as you sleep, your small intestine and colon are working to create that bowel movement from the extra-long carne asada burrito you ate last night. In the morning, you're good to go. If you don't get rid of that carne asada burrito via the toilet, you risk being gassy and bloated for the entire work day. Which nobody wants -- least of all, your cubicle-mates. In addition, getting into the bad habit of not pooping each morning could lead to constipation and irritable bowel syndrome. Which nobody wants -- least of all, your cubicle-mates. To help encourage this crucial morning ritual, Stephen B. Hanauer, M.D recommends eating a fibrous breakfast each morning with your morning coffee. That'll get you going. 
Pick up a newspaper, or your smart phone, or whatever your reading material of choice, and start off each morning with a good poop. That almost sounds charming.
Sign up here for our daily Thrillist email, and get your fix of the best in food/drink/fun.
Kara King is a News Writer at Thrillist and will take this advice to heart. Send news tips to news@thrillist.com and follow her at @karatillie.