Here's How to Get a Free Box of Heart-Shaped Honey Nut Cheerios in February
General Mills will reimburse you for the cost of a box of cereal.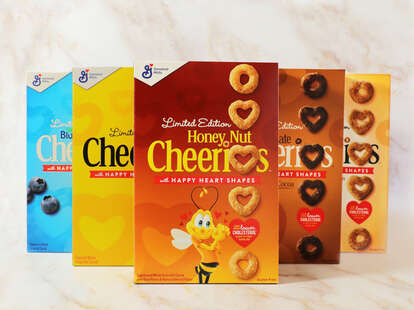 Courtesy of General Mills
Courtesy of General Mills
Valentine's season and American Heart Month have arrived and General Mills is ready to celebrate. The cereal manufacturer announced the return of heart-shaped Cheerios, and this time, fans can get a box for free.
Anyone who purchases a box of Cheerios during the month of February will be eligible for a rebate of up to $7, excluding tax. To get the reimbursement, you'll need to scan and upload a photo of your receipt that shows you bought a box of Cheerios—any flavor qualifies. You can request to be refunded via Venmo, PayPal, or US mail. Full instructions will be available on General Mills' website.
In 2020, heart-shaped Cheerios debuted in Honey Nut and Original flavors as part of the company's ongoing heart health initiative.
"When we launched the happy-heart shaped O's last year, it helped to educate millions of our fans about the importance of not only following a heart-healthy diet, but also about the benefits of eating Cheerios," said Kathy Dixon, senior brand experience manager for Cheerios, in a press release. "Cheerios is on a mission to not only put a smile on people's faces but to inspire them to find new and fun ways to support their hearts."
This time around, the heart-shaped O's are available in more Cheerios flavors, including Blueberry, Chocolate, and Cinnamon. They are only a temporary addition to General Mills' expansive collection, but a fun one nonetheless. Even if the shape is more about heart health than Valentine's Day, you can't argue that it's a nice twofer.
Sign up here for our daily Thrillist email and subscribe here for our YouTube channel to get your fix of the best in food/drink/fun.