Everywhere You Can Get Heart-Shaped Pizzas Today for Valentine's Day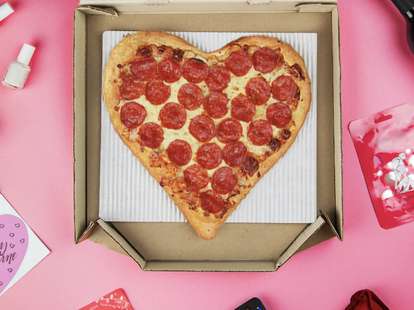 Courtesy of Pizza Hut
Courtesy of Pizza Hut
People spend money on all kinds of absurd things for Valentine's Day. Even when the gift is incomprehensible, the intentions are usually good. The gift-giver just wants to prove how much they love someone, whether that's a significant other or friend.
However, instead of dropping a bunch of money on something that can't be eaten -- jewelry, for instance -- get that loved one exactly what they like: greasy food. Sure, you could go with, say, a bouquet of baby back ribs. But then you aren't getting anything for yourself. Instead, a heart-shaped pizza says, "I know what you like," but also ensures there are leftovers for you. Tons of pizza shops are offering heart-shaped pizzas, from local pizzerias to Papa Johns and Papa Murphy's and places that aren't run by any sort of papa.
Here are the places where you can order a heart-shaped pizza for your valentine. (If you're just looking for deals, check out our list of the best Valentine's Day food deals.)
Where To Get a Heart-Shaped Pizza
Papa John's
The heart-shaped pizza at PJ's is back. Get a one-topping version for $11 with the code "VALENTINE" or get a one-topping heart-shaped pizza and a double chocolate chip brownie for $16 with the code "BEMINE."
Pizza Hut
Grab a heart-shaped pizza on its own or as part of Pizza Hut's Valentine's Day Bundle with a choice of a Hershey's Triple Chocolate Brownie or an Ultimate Hershey's Chocolate Chip Cookie.
Papa Murphy's
The take-and-bake chain is once again offering a heart-shaped pizza this year.
California Pizza Kitchen
The ol' CPK is doing heart-shaped pizzas again this year from February 11-16. Any pizza can be ordered as a heart-shaped pizza on a crispy thin crust for no additional charge.
Fresh Brothers
It's offering heart-shaped pizzas, as well as a special that will get you a large one with a "super cute lovey-themed pizza cutter" for $16.50. That's available through February 16.
Hungry Howie's
There's heart-shaped pizza in your future at the home of flavored crust. A one-topping version is available for just $6.99 at participating locations.
Mountain Mike's Pizza
For a limited time, you can get one-topping heart-shaped pizzas from Mountain Mike's.
Boston's Pizza Restaurant & Sports Bar
The deal: Heart-shaped pizzas are going to be available from February 7-14. Plus, $1 from each heart-shaped pizza that's ordered will be donated to No Kid Hungry, which works to fight childhood hunger.
Pizano's Pizza & Pasta
The Chicago-based pizza shop is making frozen heart-shaped pizzas for Valentine's Day. You'll get one thin-crust heart-shaped pizza for free when you order a two- or four-pack of mix and match pizzas. They can be shipped anywhere in the continental US.
Davanni's
The deal: The Minnesota-based chain is allowing customers to turn any medium thin-crust pizza into a heart-shaped pizza for free.
Local Heart-Shaped Pizza Offers
Amore Pizzeria - Clearwater, Florida
Grab a heart-shaped pizza, an option that will be offered at no additional charge. There's also an option for a package with some sweets. Call for more details.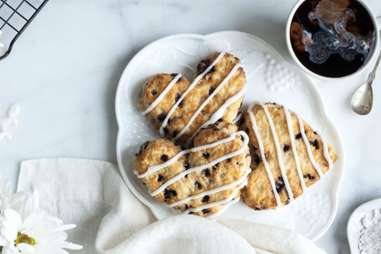 More Heart-Shaped Food
Tim Hortons
The very Canadian convenience store will have heart-shaped donuts. Bonus: You can get one for free with the purchase of a beverage from 2pm-close on February 14.
Bojangles'
Its beloved Bo-Berry Biscuits will be heart-shaped through February 16.
Bruegger's Bagels
It's not pizza, but a heart-shaped bagel is a nice way to start the day. You can get them in blueberry, plain, or cinnamon raisin through February 14.
Sign up here for our daily Thrillist email and subscribe here for our YouTube channel to get your fix of the best in food/drink/fun.