The U.S. Joins Europe in Setting Record Temps This Month
This week extreme heat will roll across the Southern US.
Swamp ass will be the least of our worries this week, as record heat blankets the southern half of the country. The National Weather Service has issued multiple warnings related to extreme heat in the lower 48 states. Daily temperatures in the Desert Southwest, Texas, South Florida, and Lower Mississippi Valley will be between the upper 90s and low 100s. The heat index is expected to be between 105 and 115 degrees Fahrenheit. You can track state by state warnings at Weather.gov.
"An expansive area of Excessive Heat Warnings and Heat Advisories remains in the Southwest, Southern Plains, western and central Gulf Coast, and even parts of South Florida where well above normal sea surface temperatures and lighter than normal winds are contributing to stifling heat," the National Weather Service's forecast states.
As of this writing, 91,052,749 million people in the United States are under extreme heat advisories. Europe is also currently battling back-to-back heat waves with soaring temps. On average each year there are 67,512 heat-related emergency room visits and 702 heat-related deaths in the US.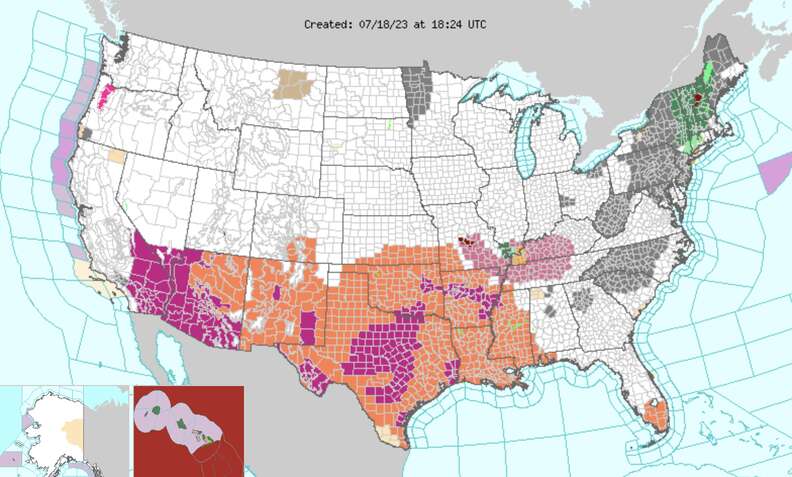 "Extreme summer heat is increasing in the United States. Climate projections indicate that extreme heat events will be more frequent and intense in coming decades," the CDC advises. "However, some heat-related illness and death risks have diminished in recent decades, possibly due to better forecasting, heat-health early warning systems, and increased access to air conditioning for the US population."
If you are in an area with extreme heat or are planning on traveling to an area with extreme heat, there are safety precautions you can take to keep yourself and others safe. The NWS advises the following:
For outdoor activities, slow down and try to reduce or completely eliminate any strenuous activity during peak heat hours.
Wear lightweight, loose-fitting, light-colored clothing.
Avoid being in direct sunlight.
Drink a lot of water—though make sure it is not too cold—even if you don't feel thirsty. Avoid alcoholic and caffeinated beverages.
Use air conditioning, ceiling fans, window units, and portable fans to keep spaces cool. Don't direct air hotter than 90 degrees Fahrenheit towards you.
Take cool baths or showers to lower body temperature.

Some groups are more vulnerable to heat waves than others. Young children and infants, older adults, people with chronic medical conditions, and pregnant people are most at danger during heat risks. Make sure to check in with those people in your life. You can access more resources and information at the CDC's website.