That back sweat gluing your shirt to the chair? It's here to stay. A potentially record-setting heatwave is descending on the US just in time to spoil your weekend beach plans.
The National Weather Service has issued excessive heat warnings, watches, and heat advisories across the Plains, Midwest, and Eastern parts of the country. Temperatures from the 90s into the 100s (Fahrenheit) are expected through the weekend. Weather.com notes that with a dew point around 70, it's going to be very humid as well, making for dangerous conditions if you're working outdoors. That will also cause the overnight lows to be way too hot. It's basically just going to be hot around the clock.
Recommended Video
Debatable: It's Fine To Recline Your Seat On a Plane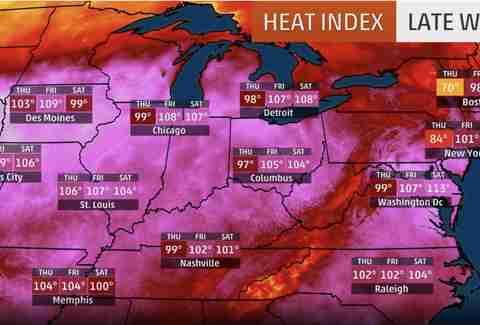 Currently, Accuweather estimates that 87 million Americans live in a city where a record-high temperature could hit on Saturday. (Could. That's no guarantee, but it's still going to be too damn hot either way.) The heat index could cross 100 in cities as widespread as Boston, Des Moines, Detroit, Kansas City, Oklahoma City, Raleigh, and Washington, DC.
Before you get all "it's summer, of course, it's hot," know that the forecast temperatures are 10-15 degrees hotter than average for any time in the middle of the summer, per Accuweather. It's going to be hot. Advisories suggest you avoid strenuous physical exercise or manual labor, and if you have to do it, avoid doing it during the hottest parts of the day. Also, don't leave kids, pets, or friends in the car.
As the adult in your life will inevitably say, stay hydrated and go see a movie if you don't have air conditioning.
Sign up here for our daily Thrillist email and subscribe here for our YouTube channel to get your fix of the best in food/drink/fun.