Heineken Wants to Give You a Free 31-Pack for Dry January. We Can Explain.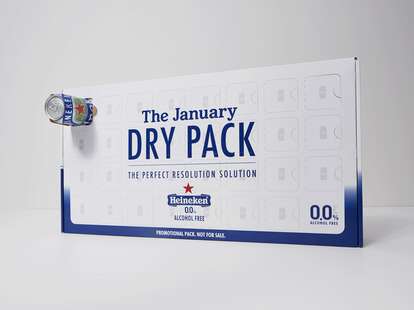 Heineken
Heineken
When I stepped out of my taxi in Zoeterwoude, Netherlands -- the location where most Heineken brand beer is made -- I was jet-lagged to a hallucinogenic degree. As a result, it didn't really matter that the "Heineken 0.0" being handed out by the man leading our press tour contained 0.0% alcohol. It tasted exactly the same as the original Heineken, and I was in the strangely intoxicating world of sleep deprivation, thankful for the drink's carbonated familiarity.
Now Heineken is launching an exclusive January Dry Pack, offering 31 cans of the alcohol-free Heineken 0.0 for free, and I have some things to say about it, because I know alcohol-free beers aren't always the hottest commodity for people outside of the sober community:
I imagine that, for many people, the weeks following the holiday season and New Year's are quite similar to hurling yourself out of a taxi after struggling to recuperate post-flight. That's why we go dry for January, familiarizing ourselves with Shirley Temples and lemony seltzer water, while our best buddies clink beer bottles together as a toast to their laboring livers. Therein lies the value of Heineken 0.0; participants of the January cleanse can fly dry under the radar.
And I mean it when I say the taste is pretty much the same. A whiskey writer I was touring with said the lack of alcohol was apparent, but that it didn't take away from the flavor. And I, a layman, didn't notice any difference.
You can now claim your free 31-pack at januarydrypack.com. The company notes that offers are only available in select markets.
One more thing: Heineken 0.0 is also 69 calories bottle, compared to the usual 148, which is -- yeah -- nice.
Sign up here for our daily Thrillist email and subscribe here for our YouTube channel to get your fix of the best in food/drink/fun.