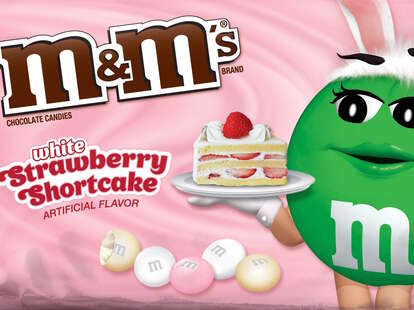 Believe it or not, we're only a little more than a month away from Valentine's Day, which means we're a little more than a month and a day away from when, more importantly, leftover Valentine's Day candy is deeply discounted. But if you're really into M&Ms, you might be tempted to hit the candy aisle sooner than later with the release of new, limited-edition flavors.
Just in time for your annual ritual of stress-eating fistfuls of candy while searching for last-minute dinner reservations, M&Ms has launched a new Valentine's Day-themed flavor, Strawberry, which makes sense considering the romantic associations of chocolate-covered strawberries. These sensual M&Ms are already on store shelves, but you'll only be able to find them at Walmart.
In addition to the Valentine's Day flavor, you can look out for two new flavors coming out in time for Easter -- White Strawberry Shortcake and the aptly named Easter Sundae. But don't expect to find them on the shelves of any old grocery store or drug store because Target is exclusively carrying the White Strawberry Shortcake flavor, while Walmart will be the exclusive source for the Easter Sundae flavor. Apparently, seasonal M&Ms are serious business, you guys.
Here's what to look out for when they all go on sale:
White Strawberry Shortcake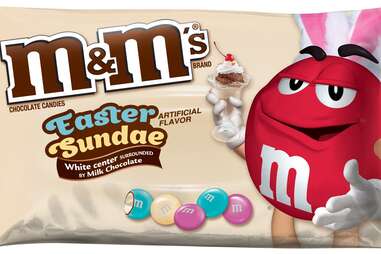 Easter Sundae
Sign up here for our daily Thrillist email, and get your fix of the best in food/drink/fun.
Tony Merevick is Cities News Editor at lets them melt in his mouth instead of chewing them. Send news tips to news@thrillist.com and follow him on Twitter @tonymerevick.