Here's How to Find Every Time Team USA is Playing at the Olympics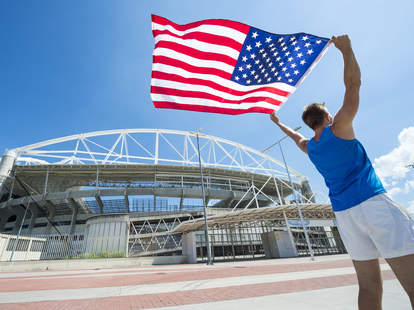 <a href="http://www.shutterstock.com/gallery-637072p1.html?cr=00&pl=edit-00">lazyllama</a> / Shutterstock
Check the NBC TV listings and it lists every sport, every athlete, every everything that's happening at any given time. But you just want to know when Team USA is competing because watching Poland versus Croatia in men's 68kg taekwondo isn't your thing and you don't know what the hell a modern pentathlon is. That's fair. NBC's schedule doesn't make it easy to figure out what's going on. 
You laugh, but tracking down every Team USA event is as simple as Googling it, and that's not because the top search result is going to give you what you want. It's because Google's Olympic calendar is the best one out there. 
Google
Google's Olympic calendar can pare down the massive number of events to just show you when the U.S. (or any other country) is playing during the day. It can also hone in on specific events, like if taekwondo is your thing, then you can get a complete list of every taekwondo event.
Google
Further down the page in the single country view, it provides a breakdown of the day's completed events, complete with medal information and video from the NBC Sports YouTube page. There are also tabs to browse national team athletes and medal count broken down by sport for each individual country. 
So, yeah, if someone asks you where to find all the Team USA events can just tell them to Google that, but you're not just being a jerk. It's the best way to sift through the massive number of Olympic events taking place.
Sign up here for our daily Thrillist email, and get your fix of the best in food/drink/fun.
Dustin Nelson is a News Writer with Thrillist. He's always Googling stuff. Follow him @dlukenelson.