Good news for those of us prone to falling into late-night YouTube video rabbit holes, the site apparently has a secret hidden "Dark Mode" feature that makes the entire site, including every video page, much easier on the eyes by inverting the stark white background color.
Recommended Video
Art of the Meal: Chloe Rose Makes Super Mario Bros Art With Hot Sauces
The feature, which appears to only be available to users with the latest version of Chrome (version 57 or better), was discovered by Reddit user _Paul-, and has yet to be officially acknowledged by YouTube. Accessing it requires a few fairly technical steps, but follow these directions and you'll be all good to try it out: 
Step one: Head to YouTube.com in Chrome and access the Developer Tools window. To do this on a Mac, press Option + Command +I. Windows users, press Ctrl + Shift + I.
Step two: Select the Console tab and paste the following text: document.cookie="VISITOR_INFO1_LIVE=fPQ4jCL6EiE; path=/"
Step three: Hit Enter, close the Developer Tools window, and refresh the YouTube page.
Step four: Tap the settings menu in the upper right hand corner. You should see a "Dark Mode" panel at the bottom. Turn it on and boom: all black (most) everything.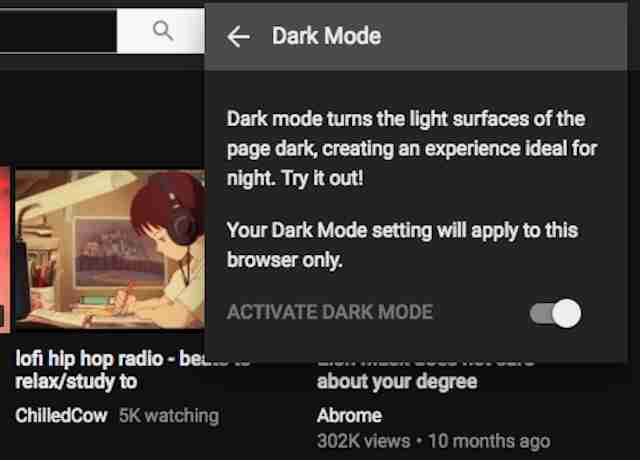 To restore original YouTube settings, simply tap the icon at the bottom right of the page. It's unclear whether this is something that YouTube will eventually roll out across all web browsers and mobile apps, but it would certainly be welcome among those of us prone to bleary-eyed, late-night binging of whatever weird, creepy, or hilarious clips have caught our attention. 
h/t The Next Web
Sign up here for our daily Thrillist email, and get your fix of the best in food/drink/fun.