This Company Plans to Fly People From the U.S. to London in 90 Minutes
In many ways, it's never been easier or more affordable to book a flight overseas, thanks to the growth of the low-budget airline industry...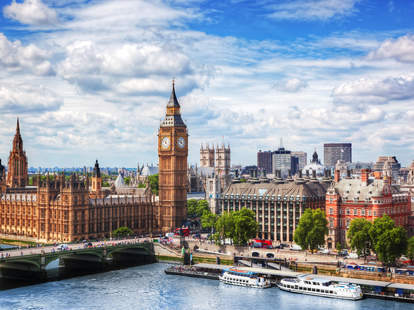 In many ways, it's never been easier or more affordable to book a flight overseas, thanks to the growth of the low-budget airline industry. However, there's still no way around the agony of jet lag that comes from spending the better part of a day traveling across multiple time zones. But what if you could nip that problem in the bud by booking a seat on a plane that'll get you halfway around the world in just over an hour? That's the mission of a new company that just announced it's developing a new plane fast enough to zip from NYC to London in about 90 minutes. 
 
If you're a frequent Transatlantic traveler who's always wished a flight to London only took as long as it does to watch a single in-flight rom-com, the folks at Hermeus are aiming to make it a reality. The company, which is run folks who've previously worked at places like SpaceX and Blue Origin, is working on a hypersonic passenger jet that would be capable of flying up to 3,300 miles per hour, and traveling between NYC and the British capital in 90 minutes or less. For perspective, a regular commercial flight between the two cities takes roughly seven hours, and the now-defunct Concorde was capable of completing the journey in four hours.
The ambitious project is still very much in its early stages, though Hermeus just announced that it's raised new funding to finance early tests of its hypersonic propulsion system. Still, the aerospace company's founders acknowledge that it'll take about a decade to develop its first passenger jet, according to CNN. 
"We have a ton of flying to do in that time -- we'll have at least two smaller iterations of aircraft that we'll build, test, and learn from in that time," Hermeus co-founder and CEO AJ Piplica told CNN in an interview. "The main challenge is integrating the core technologies together and testing them. It's really difficult to recreate the Mach 5 environment on the ground, which calls for a rethinking of how we develop vehicles that operate in this environment. That means you have to fly. We have to build a lot of hardware and fly it early so we can learn and iterate quickly."
Though there's clearly a ton of work to be done to bring the jet into existence, the pedigree of the team behind the initiative is impressive. In addition to including alumni of SpaceX and Blue Origin, all four founders worked together at a company called Generation Orbit and worked on a hypersonic plane (as well as the US Air Force's newest X-Plane).
Of course, if and when this jet is at a point where it's safe to transport passengers, you can expect tickets to be significantly more expensive than an average flight on a budget carrier. A seat for a one-way trip from NYC to London would cost around $3,000, according to CNN. A wildly steep price, for sure, but who's to say that's not worth it for a few extra hours of vacation and minimal jet lag?
h/tCNN

Sign up here for our daily Thrillist email and subscribe here for our YouTube channel to get your fix of the best in food/drink/fun.